Jonathan: I would have moved my mother to Abuja if Diri had lost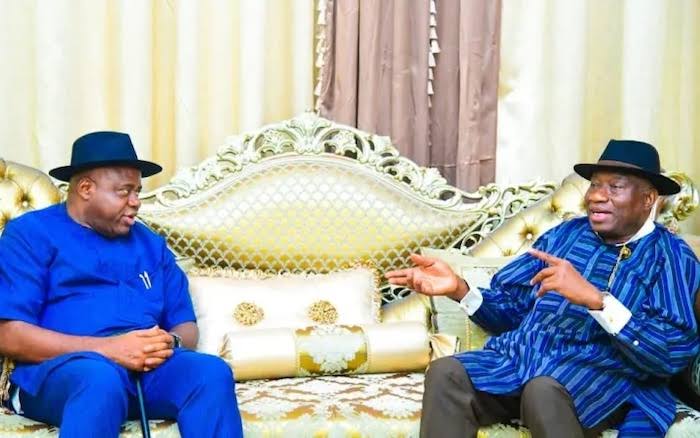 Goodluck Jonathan, the former president, said he would have moved his mother to Abuja, the capital city, if Bayelsa's governor, Duoye Diri, had lost the election.
Jonathan visited Diri in Yenagoa, the state capital, on Friday and praised the governor for tackling the issue of insecurity in the state.
He said that cultism and kidnapping have declined from the "oppressive level they were".
The former president urged the losers in Saturday's election to accept peace and cooperate for the advancement of the state.
"We don't want to enter into an unnecessary crisis in the state. Results have been announced and we believe the election was done," he said.
"We believe the governor won the election and we beg that people should agree with it and work with the governor. Let all of us back him so that the state will move forward.
"There should be nothing that will pull the state backwards.
"We should consider the development of the state starting from the issue of peace and security in the state which within this last period, three years plus, there are significant improvements in terms of cultism and kidnapping and so on and so forth.
"I was saying before this election that if Diri loses this election, I would have moved my mother to Abuja.
"My cousin was kidnapped two times on one of those occasions, one of my cousins, Solo, was killed because they threw him into the river and he didn't know how to swim.
"So, we've gone through hell in this state and we've seen a little light at the end of the tunnel.
"So, people should calm down, and allow Diri to focus on governance so that he will be able to propel this state forward so that we will benefit as citizens of the state."