King Charles' visit to France postponed as protests continue over Macron pension reforms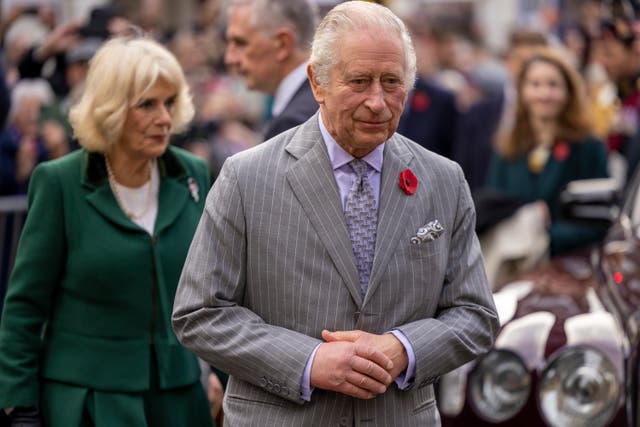 King Charles has been forced to postpone his state visit to France as police and protesters continue to clash over President Emmanuel Macron's retirement age reforms.
The monarch's three-day trip with his wife Camilla, Queen Consort from Sunday was set to be his first abroad after becoming King – but it is being rescheduled following the announcement of more widespread protests.
The French feared the security of the King could not be guaranteed "because of his interest in mingling with crowds", according to security sources in Paris, after a crack team of officers from the SDLP Protection Service unit rigorously studied the monarch's profile.
The King and Queen Consort "greatly look forward to the opportunity to visit France as soon as dates can be found", Buckingham Palace said on Friday morning.
Mr Macron suggested the new date for the King's visit to France would be in the "early summer".
The news comes after the historic Bordeaux city hall in France was set on fire on the day of the biggest protest yet against President Macron's controversial attempts to push through reforms to raise the pension age from 62 to 64 without a vote in the National Assembly, the lower house of the French parliament.
Protesters gathered outside the Palais Rohan cheered as a part of the building went up in flames, one of a number of incidents of vandalism and violence across the country on Thursday evening after a day of largely peaceful strike action.
Upwards of one million people are reported to have taken part in protests and marches across France on Thursday as part of the ninth round of union-organised demonstrations, which have taken place since January. Building on the strong turnout, unions have called for fresh protests in the coming days.
A source who was involved in the planning of four days of events across France said security "became aware of the King's habit of impromptu handshakes, and talking to ordinary people whenever he could. There are huge social tensions in France, and there is no doubt that such good manners could have been very dangerous indeed".
Confirming the postponed visit earlier, a government spokesperson said: "The King and Queen Consort's state visit to France has been postponed. This decision was taken with the consent of all parties, after the President of France asked the British Government to postpone the visit."
It is understood new dates for the visit will be confirmed shortly.
Sir Peter Westmacott, a former British ambassador to France, said he could not think of any precedent after the King's first state visit of his reign was postponed.
He told BBC Radio 4's World at One programme that he was "not entirely surprised" at the decision, but agreed it was a "big deal".
He said that he expected the King to be disappointed about the decision, given his fondness for the country.
Mr Macron told a press conference that "common sense and friendship" led to the "detestable" decision.
President Macron's popularity is at an all-time low as he faces the biggest domestic crisis of his second term in office. There have been eight straight nights of rioting, with arson attacks on areas which were due to be visited by Charles.
Around 119,000 people marched through Paris on Thursday, according to data from the country's Interior Ministry. The General Confederation of Labour, however, claimed the number to be much higher, at 800,000.
Around 80 people were arrested by police and 123 police personnel and gendarmes were injured amid widespread violence and rioting, French interior minister Gérald Darmanin said on Thursday evening. He said 12,000 security forces had been deployed on Thursday, with 5,000 of these stationed in Paris.
The state visit was set to begin on Sunday and to include a ride along the Champs-Elysées in the heart of Paris and a banquet at Versailles with President Emmanuel Macron, culminating in a visit to Bordeaux on Tuesday.
The trip, which was to be followed by a state visit to Germany, had been in the planning by the UK and host nations for months, aimed at strengthening ties between Britain and its continental neighbours.
French labour union CGT union announced this week that its members at Mobilier National, the institution in charge of providing flags, red carpets and furniture for public buildings, would not help prepare a Sunday reception for the king upon his arrival in Paris.
In a statement, the Elysee Palace said: "In light of yesterday's announcement of a new national day of action against pension reforms on Tuesday, March 28, in France, the visit of King Charles III, originally scheduled for March 26 to 29 in our country, will be postponed.
"This decision was taken by the French and British governments after a telephone exchange between the President of the Republic and the King this morning, in order to be able to welcome His Majesty King Charles III in conditions that correspond to our friendly relationship.
"This state visit will be rescheduled as soon as possible."