Kogi Assembly suspends 9 members over alleged terrorism activities, 7 LG chairmen for electoral violence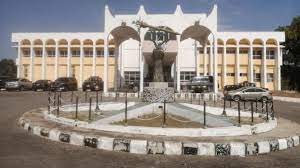 Kogi State House of Assembly on Thursday suspended nine of its members for their alleged involvement in terrorism activities.
The lawmakers also placed seven local government chairmen on indefinite suspension for their alleged involvement in electoral violence during the just concluded general elections.
The suspension of the nine lawmakers followed a letter written to the assembly by Governor Yahaya Bello detailing their involvement in terrorism activities
The governor's letter was based on security reports on each of the suspended lawmakers.
The House therefore placed the nine on suspension until investigation is concluded.
The suspended lawmakers are Olusola Kilani (Ijumu), Bello Hassan (Ajaokuta), Muhammed Lawi Ahmed (Okene 1), Moses Akande (Ogori-Magongo), Aderonke Aro (Yagba West), Daniyan Ranyi (Bassa), Atule Igbunu (Ibaji), Atachaji Musa (Idah) and Muktar Bajeh (Okehi).
While contributing to debate on the allegation levelled by the state government, Deputy Speaker, Rt Hon. Alfa Rabiu Momoh (Ankpa 11), supported the suspension of the lawmakers.
He said the state is bigger than any personal interest and that lawmakers should not be found to be contravening the law.
Also speaking, Hon Collins Musa (Omala), aligned with the Deputy Speaker, arguing that any issue that borders on terrorism is too great to be sweep under the carpet.
The nine lawmakers will remain on suspension until investigation is concluded.
In another development, the lawmakers suspended seven local government chairmen accused of involvement in electoral violence.
The affected chairmen include that of Bassa LGA, Hon Muktari Shaibu with his vice; Ogori/Magongo LGA, Hon. Okparison and his vice; Yagba West LGA, Hon Pius Kolawole; Ibaji LGA; Kabba/Bunu LGA, Hon. Moses Olorunleke and his vice, Adebimpe Alfred; Mustapha Akaaba of Ajaokuta LGA, and Joseph Salami of Adavi LGA.
Meanwhile, a seven-man ad hoc committee headed by the Deputy Speaker, has been set up by the House to investigate the suspended chairmen and vice chairmen.
The committee Secretary is Bayero Jiya.
In an another development, the House also placed the Chairman of Lokoja Local Government, Hon Dansabe Muhammed, on suspension based on allegation of misappropriation of various sums of money amounting to N150 million.
The councillors and the vice chairman of the local government had written a petition to the house, accusing Muhammed of reckless financial spending and misappropriation of public funds without recourse to the rule of law.