Kogi MIREMCO boss lauds FG on Mopa ASM gold processing project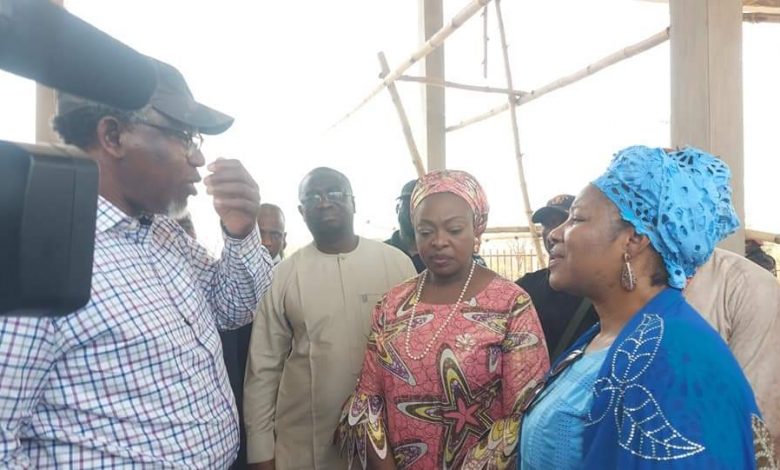 The Chairman of Kogi State Mineral Resources and Environmental Management Committee, Hajiya Hassiat Suleiman, has lauded the Federal Government through the Ministry of Mines and Steel Development on the creation and development of a Gold Processing Centre in Mopamuro Local Government Area of Kogi State.
Suleiman made this known during a two-day inspection visit  led by the Minister for Mines and Steel Development, Arc. Olamilekan Adegbite and team.
Also present were the ministry's Permanent Secretary, Dr. Oluwatoyin Akinlade, as well as representatives of Kogi State Ministry of Solid Minerals who formed part of the team.
Hajiya Suleiman appreciated the initiative calling it forward thinking of the Ministry.
"Not only will the centre cater for the Artisanal and Small-Scale Gold Miners within Mopamuro and its environs, it will also spark economic growth in the immediate environment," she said.
Arc. Adegbite who was satisfied with the progress and quality of the work so far, said that the processing centre promises to be at par with what is obtainable anywhere. He urged other states and investors to borrow a leaf from this government initiative and replicate processing centres everywhere.
"We are no longer going to make the mistake we made with crude oil, where we export raw crude only to import refined products. Our raw gold will be processed and refined here and can then be exported anywhere in the world," he stated.
Speaking further, The Minister in response to the Chairman's comment on paucity of funds for Artisanal miners, clarified that there are two categories of funds: one which requires collateral and the other which does not. He stated that loans of up to ten million and two million naira respectively can be accessed, with interest rates for both categories set at 5% and payable over a period of 15 years.
The working visit concludes tomorrow with an inspection of the coal rich areas of Kogi State.