Kwara: Abdulrazaq renovates, equips school clinic for special children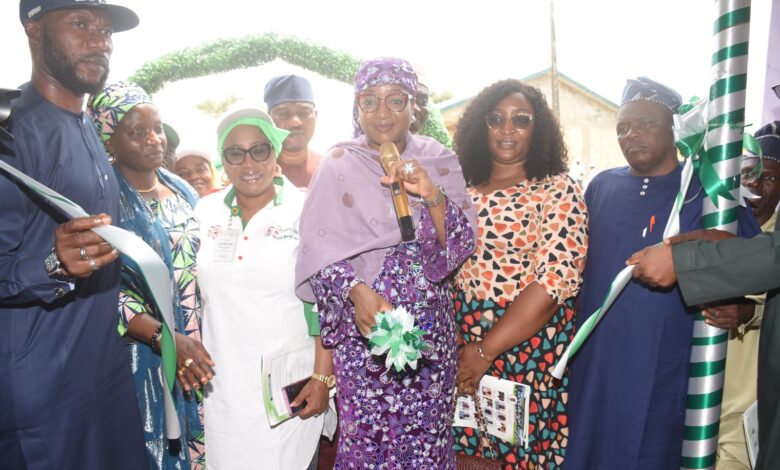 …reassures commitment to universal health coverage target
By Mosunmola Ayobami,Ilorin
Governor AbdulRahman AbdulRazaq of Kwara state, on Thursday, flagged off the use of a school clinic rehabilitated for the School for Special Needs, saying the gesture was to bring quality healthcare services to their doorsteps.
The Governor also said the government took such step in recognition of their limited movement as persons living with different forms of disabilities.
"I am impressed by the decision of the Kwara State Health Insurance Agency to renovate the school clinic and make it eligible for provider status under the health insurance scheme. The whole essence is to enroll everyone of these children into the state health insurance scheme as indigents. In other words, they will begin to enjoy free healthcare without having to go outside of their school compound," he said in Ilorin at the official commissioning of the school clinic.
"This brings quality healthcare to their doorsteps in a way that fully considers their limitations as persons living with different forms of disabilities."
Represented by the state Commissioner for Health, Dr. Amina Ahmed El-Imam, AbdulRazaq said his government is especially concerned about the indigent segment of the population to assist them to have equitable access to quality, affordable, and available healthcare services.
"Our gathering here this afternoon represents an important milestone for not just this school but also for our steady efforts to cater for the needs of every segment of our society. I recall that our first budget review session in 2019 was held in this school. That was a symbolic gesture to indicate that no part of our society will be left out in our bid to improve the standard of living of the people of Kwara State.
"Since then, different steps have been taken to improve the lot of the students of this special needs school and other underserved communities. We renovated many of the classrooms, and renovation works are still going on. We provided more relevant books and learning aids. We stabilized their subvention, thereby stopping payment of fees by their parents or guardians.
"We have also introduced solar lights to improve better visibility and mobility at night, as well as guide against crimes. This is amid other upcoming initiatives to make learning more conducive for them," he added.
He urged the students to be committed to their studies and be of good character, adding "Your disabilities do not stop your life dreams. You can attain your full potentials. So do not give up on yourself."
The Governor said the decision to enroll the students in the free health insurance is a form of subsidy to support their parents and guardians in their parental responsibilities.
The ceremony was attended by deputy Governor Kayode Alabi represented by Permanent Secretary Ministry of Health, Dr. Abubakar Ayinla Olayiwola; representative of the Kwara First Lady and Commissioner for Special Duties Hon. John Bello; Chairman House Committee on Health and Environment, Hon. AbdulRasaq Owolabi; and Deputy Chief Whip Hon Mariam Yusuf Aladi; Commissioner for Communication Mrs. Bola Olukoju; Zonal Coordinator, National Health Insurance Authority, Alhaji Adamu Abdullahi; representative of the Emir of Ilorin and Alangua of Eleko, Alhaji Shuaib Akanbi; Acting General Manager KWASSIP Dr. Olayinka Tejidini; representative of the President, Kwara State Association of Nigeria (KSANG) North America, Dr Sariyu Oyewole Bukola; Principal Abdulganiyu Olododo; and dozens of staff and students.
On his part, Chairman House Committee on Health and Environment, Hon. AbdulRasaq Owolabi, said the success story was another product of leadership qualities of AbdulRazaq, whom he described as visionary and committed to the well-being of the citizens.
He said the birth of the state health insurance scheme will reduce the cost of medical services among other benefits, thanking the Executive Secretary of the agency Dr. (Mrs.) Olubunmi Jetawo-winter for doing wonderful jobs.
Zonal Coordinator, National Health Insurance Authority, Alhaji Adamu Abdullahi, commended AbdulRazaq for providing the facility and for giving all his best to expand the health insurance coverage for people of the state.
He said the facility will be beneficial to not only the School for Special Needs but also its environs, adding that the Authority is bent on meeting the target of achieving universal healthcare coverage by 2030.
Dr. (Mrs.) Olubunmi Jetawo-winter, for her part, said they have commenced implementation of innovative initiatives to improve quality of health facilities, and to make the services available when needed.
She said it became necessary to rehabilitate the clinic to provide the school with healthcare services under the Kwara State Health Insurance Scheme, and to pass assessment for accreditation purposes.
"The School for Special Needs Clinic was one of the facilities earmarked for one of such interventions. The population of students in the school require assistance for their daily needs, and are unable to seek for medical services outside of the school premises," she said.
"Currently, we have 65 accredited providers across the state in the 16 local government areas of the state, who are able to provide both primary and secondary services, while we have 142 accredited, primary healthcare facilities, spread across the state, able to provide Primary services to the population segments in their catchment areas.
"These primary healthcare facilities are able to refer secondary cases to accredited secondary providers, whenever secondary services are required," she added.
The principal of the school,Ganiy Olododo thanked the government for the facility, and how it is passionate about and committed to the welfare of persons living with disabilities in the state.
The Olododo, who is equally a person living with disability, said his appointment as head of the school is a testament to his claim, and also lauded AbdulRazaq for the recent appointment of another two of his colleagues as permanent secretaries.
The state government recently appointed Mr Ayanwale Peter Kayode and Alhaji Abdullahi Kayode Wahab as permanent secretaries in the state civil service.