Kwara APC slams Saraki for 'shedding crocodile tears' over naira crisis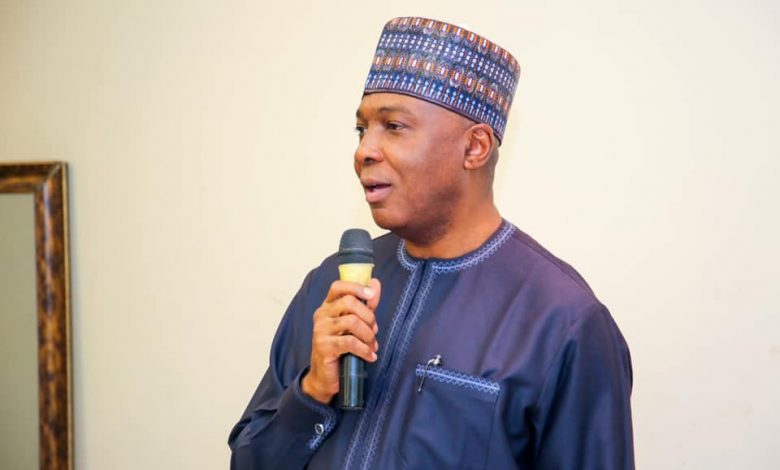 Kwara State All Progressives Congress (APC) has knocked the former Senate President, Bukola Saraki and his Peoples Democratic Party (PDP) sidekicks on what the party called their crocodile tears over the naira redesign crisis.
The APC, in a statement on Thursday morning by the party's Public Relations Officer Alhaji Folaranmi Tajudeen Aro, said that Senator Bukola was one of the first opportunist opposition figures who dismissed public fears about the dangerous timing of the currency redesign, adding that it was terrible to see the same Saraki turning around to blame the APC government for anything.
The APC recalled that Saraki was everywhere castigating the Department of State Services (DSS) and saying the efforts to interrogate the naira redesign was being sponsored by politicians.
The statement reads: "When people of good conscience, including DSS, raised serious concerns for the unintended consequences of the sudden naira redesign policy on the economy and the masses, Saraki was the first opportunist who went to town that the whole concern was about rigging the 2023 election. This was exactly on December 21, 2022.
"It is strange though not surprising, given his antecedents, to now see the same Saraki and his boys in Kwara PDP falling over one another to shed crocodile tears and asking the people to take their anger on the APC whose candidates and structures have expressed concern about the timing of the policy.
"The civil disturbance we recorded in Kwara and other parts of the country is the direct consequence of the petty politics that persons like Saraki often play in time of serious national emergencies.
"It is also not surprising to see Kwara PDP and its leaders closing their eyes to the arrays of palliatives that the Kwara State Government has rolled out, including transport subsidies for students in the state and those returning from schools outside of the state. The state government has similarly announced palliatives for different vulnerable groups in the state to cushion the effects of the fuel scarcity and naira shortage. These are what show that a government cares about its people. The good thing is that the people of Kwara State understand that Senator Saraki and his lackeys only benefit from confusion and people's sufferings in the name of politics just to serve their ends.
"We urge the people of Kwara State to reject the opportunistic message of Saraki and his men who do not care whether or not the people suffer as a result of the policy that they supported in a manner that suggested a conspiracy between their party and CBN Governor to cause confusion and frustrate the election or manipulate it to their advantage."