Kwara govt partners IHS Towers on Innovation Hub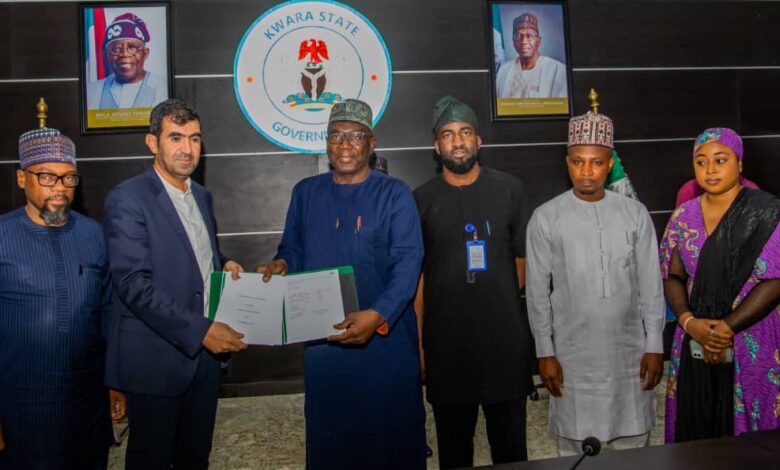 By Mosunmola Ayobami,Ilorin
Kwara State Government has struck a deal with global telecoms giant, IHS Towers, on effective deployment of Fiber Optic Cable to enhance Ilorin Innovation Hub.
Governor Abdulrahman AbdulRazaq made this known on Saturday shortly after signing the deal in Ilorin, at an event attended by top government officials and IHS leaders led by its chief executive officer Mohammed Darwish.
"Today's MOU signing represents a dream come true for our administration.
" In an age increasingly dominated by digital natives whose lives revolve around technology as well as digital naturals who live the realities of technology and the advantages it offers, we saw a need to lead in giving necessary skills and support to these important cohorts and leverage the same to build a stronger economy. Our objectives are to offer the tools, resources, and the environment that innovators and startups require to flourish, especially in the realm of digital and tech skills. By this, we see a future where Kwara sees job creation, poverty reduction, and improved well-being of the people.
'But having the right partnership and technical support to run this tech space is critical to achieving these objectives, efficiency and sustainability. This is why I am excited about this strategic partnership with the global tech giant IHS Towers to drive the project. With its proven expertise and legacy of innovation, HIS fits into our vision for this initiative".
"This is a partnership of huge mutual benefits. IHS is offering technical and organisational support in the operations, maintenance and management of it in exchange for certain benefits such as use and operation of the hub for the delivery of IHS training and ancillary programmes as well as branding rights, among other things.
We strongly believe that public private partnership offers the right incentives for sustainability and economic growth. Even so, we are committed to preserving the interest of the people and the state as owners of these investments."
"The facility is envisioned to be a leading centre for technology and innovation in Nigeria, focusing on fostering disruptive ideas and supporting startups", said Abdulrazaq.
In his remarks, the Innovation Hub's Managing Director, Temi Kolawole, said the partnership identified a mutual focal point in the shared passion for innovation, digital skill enhancement, and job creation.
" We're committed to ensuring the Hub's sustainability and leaving a legacy, fuelled by Governor AbdulRahman's vision for youth development that will trigger state and national development", said Kolawale.
He also mentioned the upcoming collaboration of the Ilorin Innovation Hub with the Federal Ministry of Communications Innovation and Digital Economy on various programmes, with IHS Towers as a mutual partner.
Darwish commended Kwara State's progressive digital policies, particularly the free Right of Way for Fiber Optic Cable deployment.
"With the MoU in place, our focus is on transforming the Ilorin Innovation Hub into a reality by the second quarter of 2024," he said.