Kwara North demands ministerial position, KWASU VC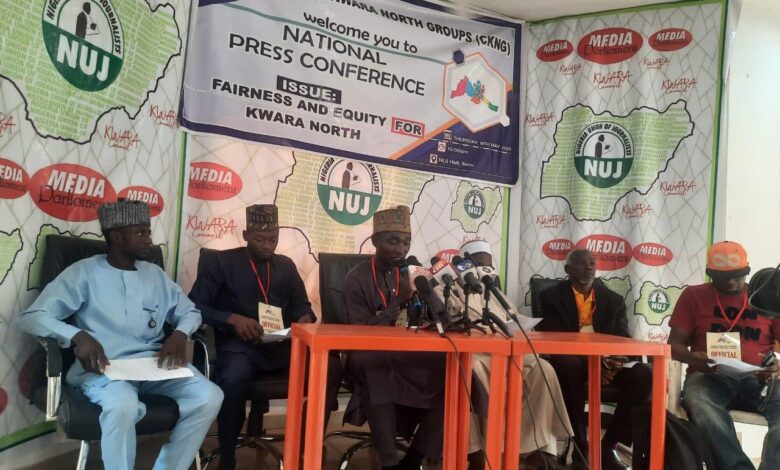 By Mosunmola Ayobami, Ilorin
The Coalition of Kwara North Groups (CKNG), has called for the appointment of qualified people from the zone as a senior minister in the administration of President-elect, Asiwaju Bola Ahmed Tinubu.
The groups also urged Governor AbdulRahman AbdulRazaq to appoint a qualified, capable son of the soil as the Vice Chancellor of Kwara State University to right the wrong made by the past administration.
Chairman of the group, Mr. Abdulqadir Yusuf made the demands at a press conference held in Ilorin on Thursday.
The groups said with the huge sacrifices made in 2019 by Kwara northerners with the second largest votes (31.84%) that ushered in the All Progressives Congress (APC) government, the Senatorial District has nothing significant to show in terms of appointments, especially at the federal level.
This, the groups said, is in contrast to the other two Senatorial Districts; Central and South respectively.
"While the Central supplied the highest votes of about 39% in 2019, South provided the least of around 29%. Notwithstanding these figures, the two districts got handsomely rewarded with ministerial appointments vis-viz Alhaji Lai Mohammed and Sen. Gbemisola Ruqayyat Saraki respectively," Yusuf said.
He added that, having been denied the governorship seat in 2019 despite the moral and constitutional provisions of every component of each state in Nigeria to be treated equally, the north swallowed the injustice all for the positive growth, progress, development and peaceful co-existence of all Kwarans.
He emphasised that Kwara North is not pleading, and of course not begging for understanding, adding that they are simply demanding for a Kwara State that works for all.
"We are gathered here today to establish the imperatives of why a Kwara Northerner should be a full minister in this 2023 Federal Executive Council by the new government to be inaugurated on the 29th May, 2023.
"To state that Kwara North Senatorial District is the most unrewarded, after the 2019 political power revolt by Kwarans, is an understatement.
"We urge the Kwara State governor to demonstrate courage by righting the wrong of the past by appointing a qualified and capable Vice Chancellor from Kwara North, against the fact that though, the institution is on the soil of Northern Kwara, no Kwara Northerner has ever headed the institution in VC capacity since over 13 years of KWASU's establishment.
"Doing this would portray the Visitor of the institution, as just, fair and equitable.
"Again in 2023, notwithstanding the fact that the area had an opportunity to produce a governor from an alternative formidable political party, but the people massively voted for APC at both national and state elections.
"The 2023 governorship elections result of Kwara as released by the Independent National Electoral Commission (INEC) shows that of the 273,424 votes cast for APC, Kwara North was consistent; again producing the second largest votes of about 34% that won the reelection of Governor Abdulrahaman AbdulRazaq," he said.