Lagos Assembly inaugurates Standing Committees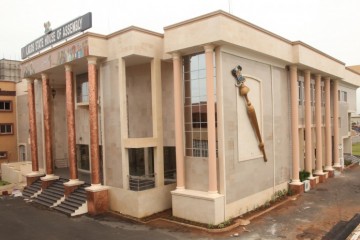 Lagos State House of Assembly has constituted 40 standing committees for the 10th Assembly, for effective operation of its oversight function.
The Speaker, Mudashiru Obasa, during plenary, named himself as the Chairman of Selection Committee while the Majority Leader, Hon. Noheem Adams, oversees the Business Rules.
He said the Chief Whip, Hon. Fatai Mojeed, would head the Ethics Protocol & Privileges committee while the Public Account (State) would be headed by Hon. Kehinde Joseph.
Obasa said the Public Account (Local) would be chaired by Hon. Akinsanya Nureni; Civic Engagement, Hon. Lukmon Orelope; Information Strategy & Security, Hon. Stephen Ogundipe; while Chairman Agriculture is Hon. Olootu Emmanuel.
He said: "Other committees and heads are, Economic Planning & Budget, Hon. Saad Olumoh; Education Ministry & Agency, Hon (Mrs) Mosunmola Sangodara; Education Institution, Hon. Ajani Owolabi; while Science & Technology is Hon. Seyi Lawal.
"Also included are Environment Parastatal, Hon. Adebola Shabi; Environment Ministry, Hon. Lanre Afinni; Establishment, Training & Pension, Hon. Aro Moshood; Energy & Mineral Resources, Hon. Sabur Oluwa; Waterfront Infrastructure Development is Hon. Yishawu Gbolahan.
"Also, Physical Planning and Urban Development, Hon. Sylvester Ogunkelu; Transportation, Hon. Temitope Adewale; Commerce, Industry and Cooperatives, Hon. Abiodun Tobun; while Women Affairs, Poverty Alleviation and Job Creation is Hon.(Mrs) Lara Olumegbon." 
According to the speaker, the Works & Infrastructure would be headed by Hon. Desmond Elliot; Wealth Creation & Employment, Hon (Mrs) Foluke Osafile; Finance, Femi Saheed; Health, Hon. Musbau Lawal; Home Affairs, Hon. Abdulkareem Jubreel; Tourism Art and Culture is Hon. Boonu Solomon.
Obasa also said that the Youth and Social Development would be chaired by Hon. Biodun Orekoya, Judiciary, Human Right, Public Petition & LASIEC, Hon. Ladi Ajomale; Lands, Hon. Seyi Lawal; Housing, Hon. Segun Ege; CBD, Hon. Oladele Ajayi.
The speaker said  the Special Duties and Intergovernmental Relation would be chaired by Hon. David Doherty, Local Government Administration and Community Affairs, Hon. Okanlawon Ganiyu and Compliance Legislative, Hon. Setonji David (Deputy Chief Whip).
He said the Procurement would be headed by Mr Samuel Apata; Interparliamentary, Hon. Kasunmu Adedamola (Deputy Majority Leader); Public Private partnership, Hon. Yinka Esho; Overseas Investment, Hon Ogunleye Gbolahan. 
Obasa urged the committee chairmen to see the position as a call to serve the people of Lagos State and not to cater for personal interest.
The speaker advised the house committee chairpersons to live up to expectations by serving their respective committees diligently.