Lagos, Kano lead as INEC's continuous voter registration ends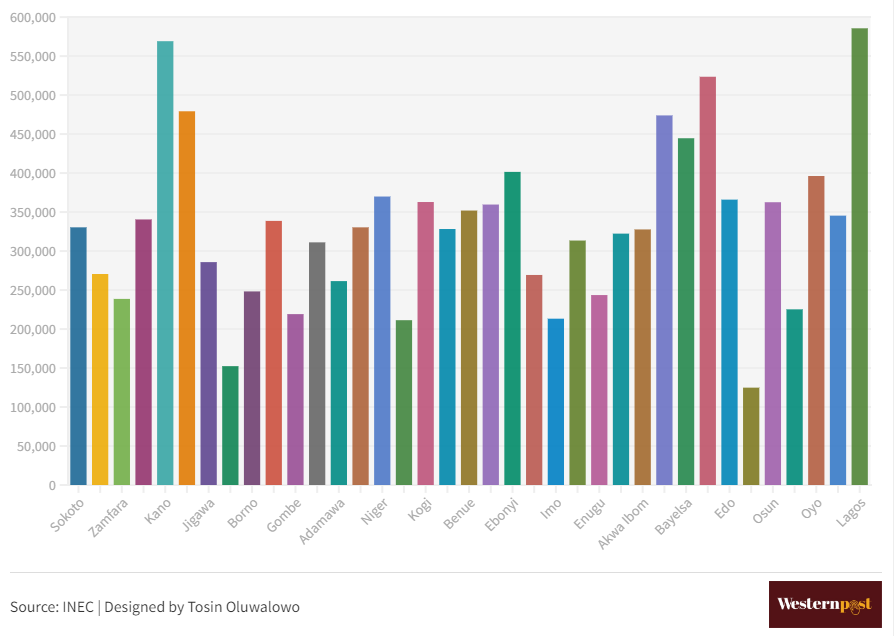 …youths 71% of total fresh voters
Lagos State led in the total number of newly registered voters during the just concluded Continuous Voter Registration by the Independent National Electoral Commission (INEC).
According to the data released by INEC on Monday, a total of 12,298,944 new voters were registered during the CVR which lasted for about a year.
Lagos State came tops with a total of 585,629, ahead of Kano State which had 569,103 number of newly registered voters while Delta was third with 523,517 new voters completing their registration.
Kaduna and Bayelsa states came fourth and fifth respectively with 479,231 and 444,652 newly registered voters respectively.
In the last position with the least number of newly registered voters was Ekiti State with 124,844 behind Yobe State with 152,414.
The FCT has the third-least newly registered voters at 211,341, while Imo and Gombe are not far off in four and five from behind with 213,270 and 219,124 respectively.
Out of the six geopolitical zones in the country, the North West with seven states had the highest number of newly registered voters with 2,514,273 ahead of the South South at 2,458,095 and the North Central in third with 2,314,368.
The South West had 2,039,982 newly registered voters, while the North East had 1,531,070 and the South East came in rear with 1,441,156.
INEC also gave the age distribution of the newly registered voters, with the youths between the ages 18-34 accounting for 71.43 per cent at 8,784,677. Far behind are those aged between 35-49 with 2,430,709, representing 19.76 per cent. 956,017 voters aged between 50-69 representing 7.77 per cent also took part in the CVR while 127,541, new voters, aged over 70 representing just 1.04 per cent were also registered.
More women 6,224,866 got registered during the CVR, representing 50.61 per cent compared to men 6,074,078 representing 49.39 per cent.
Just like the youths dominated in age distribution, more students (4,501,595) also took part in the CVR, representing 36.60 per cent. People into business represented 18.21 per cent with 2,240,124 new voters registered, while new voters into farming/fishing were 1,541,841 representing 12.54 per cent.
1,466,612 newly registered voters are housewives representing 11.92 per cent, while a further 667,345 representing 5.43 per cent registered as traders and 640,638 representing 5.21 per cent registered as artisans.
Civil servants and public servants had 381,256 and 125,027 new voters respectively, representing 3.10 and 1.02 per cent while people without any classification were 734,506 representing 5.97 per cent.
INEC also disclosed that there were 87,083 people living with disabilities across all categories.
Out of the 12,298,944 completed registrations, 8,854,566 were done physically, while 3,444,378 were done online.