Lagos Lawmakers to review laws guiding local govt administration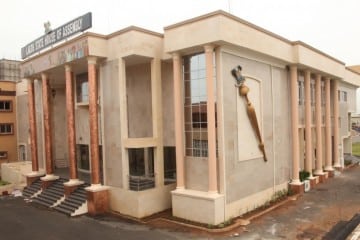 Members of the Lagos State House of Assembly have concluded plans to review laws guiding local government administration in the state.
The lawmakers argued that the review was to ensure effective grassroots governance and for the 20 Local Governments (LG) and 37 Local Council Development Areas (LCDA) to meet up with the current realities.
Raising the matter during plenary session on Thursday, the Chairman of the House Committee on Local Government and Community Relations, Hon. Sanni Okanlawon, said there is need to regulate the numbers of Supervisors and Special Advisers to be appointed by Council Chairmen.
Okanlawon highlighted the importance of reviewing the laws that guiding the local councils, expressing concern over reports of illegal acquisition of chieftaincy titles without proper guidelines.
He urged the lawmakers to support the review of the administrative guidelines to promote good governance.
In his contribution, Hon. Gbolahan Yishawu (Eti-Osa 2) pointed out the inordinate way streets were named in Lagos.
Yishawu said in the past, streets were named after individuals who have made contributions to the development of their communities or the State.
He suggested that the practice should be re-examined.
In a related development, Hon. Olusegun Ege (Ojo 1) proposed that the House address the issue of some estates in the State that lock their gates, leading to traffic congestion and other problems.
The lawmakers also discussed the need to regulate the access restrictions put in place by certain estates in the State.
They agreed that such actions must be monitored and controlled.
In his contribution, the Majority Leader of the House, Hon. Noheem Adams, shared an incident from a recent oversight function on healthcare in the State, where the lawmakers were denied entry into some estates.
He noted that the estates also have ongoing legal issues related to elections held within their premises and have not been granting access to government officials.
Some of the lawmakers suggested that the House review the laws governing residents associations as they are currently guided by Community Development Association (CDA) laws.
However, the Speaker of the House, Rt (Hon) Mudashiru Obasa, backed the call to review local government laws and guidelines, saying " It is the responsibility of the Assembly to make and update laws when needed".