Lagos Red Line Rail 'll become reality before May 29, Sanwo-Olu assures Lagosians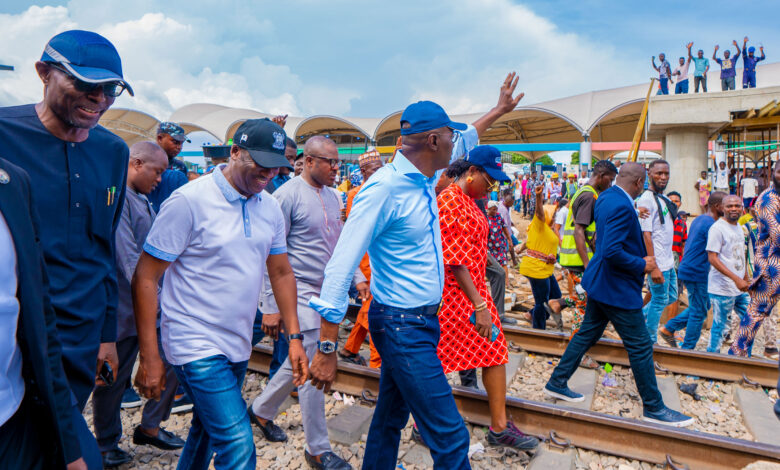 Lagos State Governor, Babajide Sanwo-Olu on Tuesday assured Lagosians that the Lagos Rail Mass Transit (LRMT), Red Line project would become operational before the end of his first tenure in office.
Sanwo-Olu gave the assurance while fielding questions from journalists shortly after the inspection tour of the project which took the governor to Yaba and Ebute Meta axis of the state, where train stations and vehicular bridges overpass were sited.
Governor Sanwo-Olu stated that the Ebute Metta vehicular bridge overpass was 75 to 80 percent completed while that of Yaba was 95 percent completed.
He said the state government is working with all necessary stakeholders, most especially the Nigerian Railway Corporation.
Sanwo-Olu said the two train stations in the axis were at various advanced stages of completion and expressed satisfaction with the progress and level of works on the entire project, which stretches from Ebute- Meta to Agbado.
The governor noted that when the project is completed, the unfortunate train accident which claimed lives at the PWD rail crossing would be a thing of the past, considering its design.
He said: "You have seen the train stations, especially the Yaba and Oyingbo train stations. We started at Yaba there and we also have a vehicular bridge overpass. With the train station we believe we are about 75 to 80 percent complete and with the bridge it's about 90 to 95 per cent but the adjoining road to Yaba would be cleaned up.
"We are satisfied with the level of construction so far . You can also see there is also lots of construction there. You can see a lot of traders along the rail track, what we came here to do is a lot of advocacy that the track will be fully wall off when operation begins.
"We believe, we are still on track , and it will be ready before the end of our first term in office, depending on when we want to commission it, we will just be doing a lot of testing running because this rail track will be working with the Nigerian Railway Corporation from Ebute Metta to Ibadan so we need to harmonize our own rail infrastructure"
He spoke on the just concluded general elections, even as he regretted that during the campaigns, divisive rhetoric were used. He, however, disclosed that the healing process had been initiated.
"We saw hateful and hurtful ethnic profiling by fellow citizens – which is totally out of place for us as Lagosians, the proud residents of West Africa's pre-eminent melting pot.
"I want to recognise and salute all the multitudes of residents who refused to succumb to those who sought and still seek to divide us with their unguarded and inciting comments," he said.