Lai Mohammed to PDP, LP: You are sore losers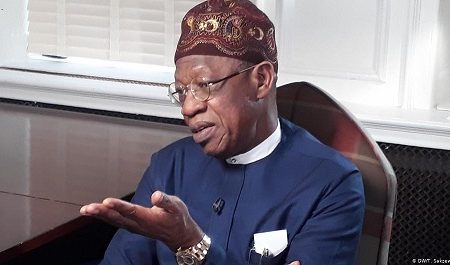 Minister of Information and Culture, Alhaji Lai Mohammed, has advised the opposition to stop complaining about the 2023 presidential election, which they lost significantly.
The minister stated that the opposition parties know they deserved to lose the election due to their overconfidence and complacency, buttressing the position of President Muhammadu Buhari.
In a statement released on Sunday in Abuja, Alhaji Mohammed explained that President Buhari deserves accolades for conducting the best election in Nigeria's history, adding that the opposition's reaction to the President's comments proves they are shameless sore losers.
"The opposition's overconfidence going into the election stemmed in part from the blitzkrieg of social media propaganda as well as faulty and procured opinion polls, which were apparently meant to hoodwink their foreign backers and a section of the international media into uncritically reporting that they were coasting home to victory when they were indeed heading into the ravine of defeat," the minister said.
According to Alhaji Mohammed, the opposition parties did not meet any of the conditions stipulated for winning the presidential election, noting that the presidential candidate of the All Progressives Congress (APC), Asiwaju Bola Ahmed Tinubu, won the election fair and square, clinching the majority of the votes cast and surpassing the constitutionally-stipulated 25% of votes cast in each of at least two-thirds of all the states in the Federation and the Federal Capital Territory.
"The opposition's insinuation that the failure to immediately upload the result of the presidential election onto IReV affected the credibility of the election is a fraud. It is an act of blackmail and deceit by desperate individuals," he added.
Mohammed slammed the opposition for continuously misleading the world and seeking to justify their fraudulent claims that the election was rigged.
"The opposition Labour Party, in particular, will go down in the history books as the first-ever distant third-place finisher in a presidential election anywhere to have bold-facedly claimed victory," he said.