LASG to tackle infrastructure deficit with N115bn bond, N19.8bn Sukuk issuances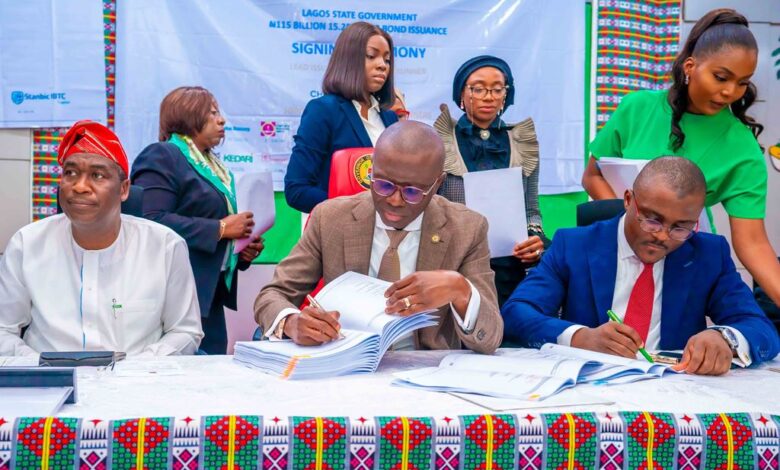 Lagos State government, on Tuesday said it will invest more in education, health, and roads with the proceeds from its 10 and seven years Bond and Sukuk issuance.
The state governor, Babajide Sanwo Olu gave the assurance at the agreement signing ceremony of a N115billion 2033 Bond Issuance at 15.25% interest rate between the state government and Chapel Hill Denham, the lead issuance House, and a seven year N19.815 billion Sukuk Issuance at 14.675% interest with LOTUS Capital, the leading issuance House.
Governor Sanwo-Olu's administration had, in 2020, earmarked a N500 billion Bond issuance to develop the state, out of which N100 billion and N137 billion was issued in 2020 and 2021.
Tuesday's signing ceremony was part of the N500 bilion earlier earmarked.
While speaking at the ceremony at the Lagos House, Alausa, Ikeja, the governor promised that proceeds from the bonds will be used judiciously.
Some of the projects that will be financed with the proceeds include the reconstruction of the Tolu School Complex, Ajegunle which has 33 schools inside it, construction of roads at the Lekki-Epe corridor, building of infectious diseases hospital, building of new markets for sales of agricultural products, among others.
"We are going to ensure it is used for the purposes it was meant for. It will be used to stimulate economic growth. The proceeds will enable ministries and MDAs to execute projects that have been pre-inspected," Sanwo-Olu said.
Commissioner for Finance, Rabiu Olowo, said the administration has made standout financial decisions in the last four years which has saved the state over N20 billion in debt.
He said it was also a demonstration of trust investors have in the state government.
The Chief Executive Officer, Chapel Hill Denham, Bolaji Balogun, who was represented by Kemi Aside, said Lagos State has demonstrated it's status as the longest issuance state.
" No other state has been able to issue bonds in the public market," he said.