Let's talk up Nigeria, Osinbajo says at poet Umukoro's book launch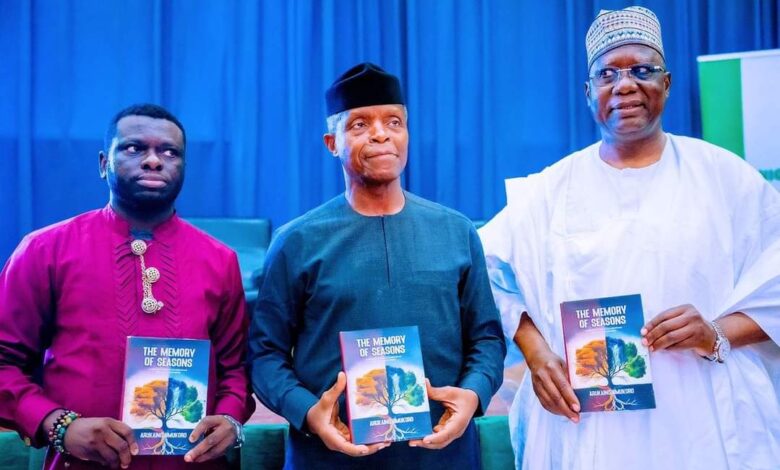 Vice President, Prof Yemi Osinbajo said a significant part of building a great nation is both in words and actions of all citizens motivated by the patriotism and the collective efforts of citizens and leaders alike.
He stated this on Sunday at the formal presentation and book launch of "The Memory of Seasons," by award-winning writer and journalist, Arukaino Umukoro.
The event in Abuja was themed "Conversations on Nigeria's Unity in Diversity: Challenges, Opportunities." The book, a collection of poems on nationhood, faith, life and humanity, was published by Eternalfilez Publishing, the event's organisers.
The Vice President, who was the Special Guest of Honour at the event, said: "A big part of Nation building is talking up your nation.
"Every country talks up their own country. People of every country talk up their own country. When we get home, we can criticize ourselves, but we must talk up our country.
"What are the narratives that we push about Nigeria?
"The stories of nations written by others focus on their own agendas, the agendas of the authors. The negatives, of course, sell more and much faster, we must tell our own stories.
"We belong to one side, and that side is the Nigerian side. Someone was talking about Arsenal a few moments ago, that Arsenal would win this premier league. Because that's our side, we take the side. They may not be the best, they may not win all the time, but that's our side; this country is our side. So, we must talk up this country, continue to talk it up and make sure that, in every way, that we can, we give the very best impression of our country.
"Our country is not its politicians, it's not even its religious leaders, it's not its business leaders, it is you and I. Our country cannot be defined by any group of people, any political party or the head of a political party, or whoever else. It is defined by us, all of us: those of us who are born Nigerians, born by Nigerians, or who become Nigerians by naturalization.
"Our stories must be stories of our aspirations, our dreams and our hopes, planted on the successes of our journey and the future of great hope, because we have the incredible talents and material resources, and already on that journey, we are very far ahead.
"And I think the poem, Imagine Nigeria, which is in the book, captures the story we want to tell the world; and I'm going to read portions of it just to encourage us."
He quoted copiously from one of Umukoro's poem, Imagine Nigeria and read some stanzas
He said: "Imagine Nollywood movies winning Oscars every other year. Funke, Ejiro, Asabe, on the global stage.
"Imagine Super Eagles winning the World Cup, finishing top five on the Olympics' medals table.
Imagine food baskets all over the country, sufficient to feed 200 million people, yet enough left for export.
"Imagine the UN asking third world countries to learn from the rapid development of the West only this time, it is the South-West of Nigeria.
"Imagine the rise of groundnut pyramids like the sphinx in the Northern deserts.
Imagine those cattle on a thousand hills and valleys, whose dairy products are sold in Europe.
"Imagine Harvard in Jigawa, MIT in Kebbi; and Almajiri a cancelled word.
Imagine the best resorts in Africa in the Niger Delta, where children swim in clean water flowing from the creeks.
"Imagine Hawaii in Akwa Ibom or Bayelsa, Disneyland in Warri; architectural masterpieces, and a boat cruise in the Niger Delta.
"Imagine that over 250 ethnic groups understand their differences, harness her diversity into strength, to become a truly indivisible country.
"Imagine the one 'Nigeria tribe'.
"Imagine a country with focused, selfless leaders. And strong institutions.
"Imagine a country where the rule of law prevails. A country where there is dignity in labour; where justice is a meal both for the rich & poor.
"This Nigeria of our imagination is possible, for as long as we have the likes of Ruky (Arukaino), in whose hearts burn brightly the reality of this new Nation."
In his remarks, Chairman of the occasion, Mr. Rabiu Suleiman, (Chairman/CEO, RiftOil Petroleum Company Ltd & Yolde Energies Limited,) commended the author for an important literary work that also speaks to nationhood.
Highlights of the event included spoken word performances, which focused on nation-building from Umukoro's book – including Imagine Nigeria and Rebirth of a Nation. They were performed by Tamara Dogubo and Abdullahi Haruna. It also featured a panel discussion on the event's theme.