Linking Oyetola with PDP's violence mischievious, aide tells Osun govt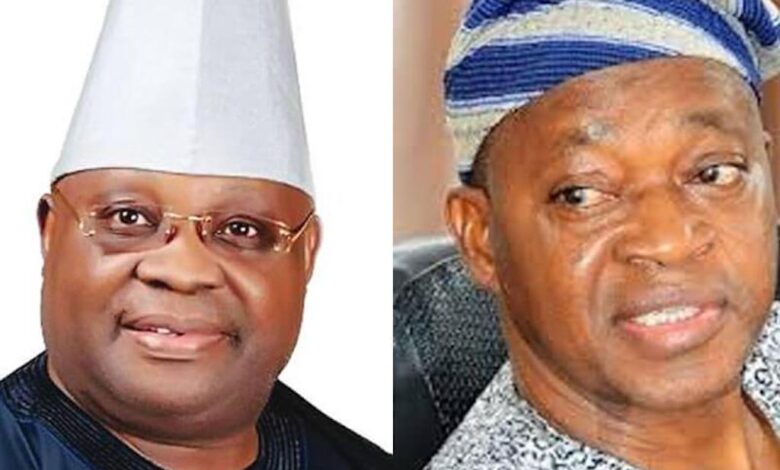 By Deborah Oladejo, Osogbo
Media aide to former governor Adegboyega Oyetola of Osun State, Ismail Omipidan, has described the allegation that violent activities in the state have been on the rise since his principal returned to the state on Monday, January 2, as mischievous and a calculated attempt to smear his name.
Omipidan noted that those around Governor Ademola Adeleke who are spinning lies and making false claims against Oyetola needed to have a rethink.
According to him, Oyetola was not in town on 31, December 2022 when Peoples Democratic Party (PDP) thugs openly engaged themselves in a supremacy battle at the venue of the New Year crossover night.
Omipidan challenged the state government to name one violent incident that had taken place around Oyetola since Monday when he returned to Osun from his vacation, even as he said that the PDP's penchant for violence is well known.
He noted that PDP started unleashing violence on APC members since 17 July 2022 when the result of the 16 July governorship election was announced.
"It is on record that even the governor as the governor-elect had to issue a public caution to his supporters to celebrate moderately and stop visiting violence on innocent Osun citizens when they began attacking us after the announcement.
"But since then, it never abated. Contrary to their claims, political violence has been on the rise in the State since 27 November when they took over. The first one was recorded at the venue of the swearing-in on Sunday, November 27, when his men attacked Amotekun operatives. These violent incidents, some of which led to loss of lives, are well documented by the people of the state.
"Before the July 16 governorship election, two of their leading National Assembly candidates, Hon. Sanya Omirin and Hon. Lere Oyewumi, openly instigated the PDP supporters to deploy bombs, grenades and other dangerous weapons against APC members during the election. We raised the red flag. Our campaign bill boards were destroyed by them before and after the election.
"There have been series of attacks in the state before my principal, Oyetola returned to the state on Monday, January 2. For instance, on December 23, PDP thugs attempted to assassinate one of our former commissioners in the public glare in Ilesa.
"Again, on December 28, PDP thugs invaded Best Suites and Hotel at the Freedom Park, in Osogbo, run by one of our former commissioners, beat up everyone in sight, including guests, and even injured the Manager of the place. They also emptied the bar. Was my principal in town on that day?
"Was my principal in town on December 31st when PDP openly engaged themselves in a supremacy battle at the venue of the New Year crossover night?
"I can go on and on. But let us leave it at that for now. I am aware through some of their foot soldiers that they are intimidated by the presence of my principal in Osun, hence they have been holding clandestine meetings on how to unleash mayhem on Osun and hang it on our neck. However, this too will fail like all previous plots against us.
"They are already perceiving another failure on their wild goose chase. Osun people knows those who are in the habit of using extrajudicial means by deploying non-state actors to deal mercilessly with perceived opponents. This does not in any way fit the person and character of my principal.
"I, therefore, want to enjoin Osun security operatives and other discerning Nigerians to be on the alert. Those around the governor might be up to something sinister. From Monday when my principal returned to Osun, he has been preaching peace. We will continue to preach peace," Omipidan said.