Magnus Abe and the road not taken, By Blessing Wikina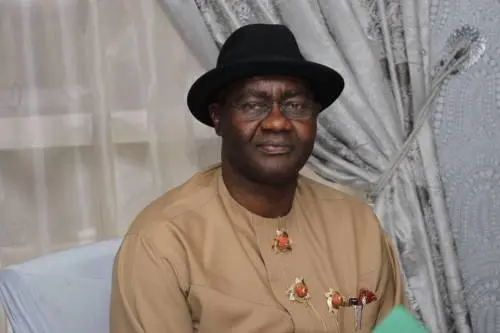 When he wrote this great didactic Poem, titled The Road Not Taken Robert Frost never had Magnus Abe, Chibuike Amaechi, and Nyesom Wike in mind. What was uppermost on his mind were the options of choices, and the alternatives of making decisions when faced with crossroads.
Events may shape men, but they do not remove the options of choice, and may not be Fredrick Forsyth's 'Devils Alternative's option.
On this night in Abuja, months gone, that these Rivers -3 were together, in the fortress of the Lions den, home of the Ninja, history never knew that it would be the very last time, that the Rivers-3, would ever be seen together.
And since then, they haven't been together again, physically, under one roof, one house, one page, or on one dining table, together.
On the night, disagreement had taken a sharp turn. Wike had politely opted out from Amaechis house. But as he walked towards the door, Magnus in his usual gentlemanliness hurried after him into the car park, and offered to drive Him home to his residence.
Abe had prevailed on 'Eze gburu-gburu' as he fondly calls him, to stay. But Wike's' mind had been made up, and would no longer be part of Amaechis team anymore.
At the point of drop-off, Wike predicted to Magnus, that He may be the next victim of the Lions rage.Magnus put everything on the line, via the act of driving Wike home.
The Road usually taken in such situations, would have been for Magnus to support the Principal's action, and immediately distance himself from Wike, and cut off friendship.
But he opted to walk on The Road Not Taken by not quarrelling or hating Wike.
Rollback Governor Odilis last days in office. Succession plans and Politics had ran into an amorphous indirection, leaving the state with a possible leadership abracadabra.
In the midst of it, Amaechi had set sail, and gone on exile to Ghana, and cut off communication with his benefactor.
The K-leg saga sprang up, giving birth to an Omehia option, with the bulk of the political class still preferring the Amaechis alternative. Wike galvanized the squad back home for "war" to get back the mandate.
Magnus, while still serving as Odilis Commissioner, embarked on a Political suicide mission, and travelled to Ghana to touch base with his friend, the Ninja himself, knowing that such a trip would be interpreted as disloyalty and betrayal by Politics.
Confronted over the trip when he returned, Magnus humbly told Odili that he had given his support to Amaechi, and would not be disposed to back Omehia's candidacy as a matter of conscience.
He chose "The Road Not Taken" and thanks to Odilis Statesmanship who looked at it with elder's eye.
Enter the Jonathan era, and an irritant Police Commissioner named Mbu was unleashed on Amaechi and his team. A plethora of ugly incidents were taking place daily, but the Federal authorities looked the other way happily, as Mbu serially went for the throats of the political class on the other side.
Magnus, a serving senator then, almost lost his life, as 'tailored bullets meant for Amaechi' were sprayed on him openly. But in a twist, only few months ago, social media gurus loyal to Amaechi, had attempted to alter the story, alleging that Abe faked the shooting incident, with some swearing that such incident never happened.
Abe again chose "The Road Not Taken" by not engaging discussion on it. Friendship to him is not a dogs day matter.
By choosing to traverse on "The Road Not Taken" Magnus Abe is attempting to direct the Political landscape of Rivers State, that had now become laced with toxic reactions, and transfered hatreds.
"Whom ever the Leader dislikes, must be disliked by all followers" was the new way of pledging loyalty, or you are branded a betrayer.
Friends, brothers, colleagues, cousins, Priests, Pastors, Youths, and Chiefs had inconveniently become de-facto enemies, under Transfered Hatred Syndromes (THS).
A political virus without available vaccine enveloped us, and the PH culture of holding your opinion, or having friendly sustained discussions, got missing.
Alas, Magnus Abe seems to come with an open-aired political option of welcoming other people's views, without fighting…a scenerio that will benefit the state, if it succeeds.
Abe should realise that when you elect to follow The Road Not Taken, it would surely be difficult to traverse. The Politics of succession had always been rough here.
But who says Rivers People do not like and admire good things, good products, sweet fisherman's soup, better bole, good wine, fresh palmie, or even fine women and men, when they see one?
Melembe-Melembe, Magnus we go flex you wella.