Morocco earthquake: 632 killed as buildings damaged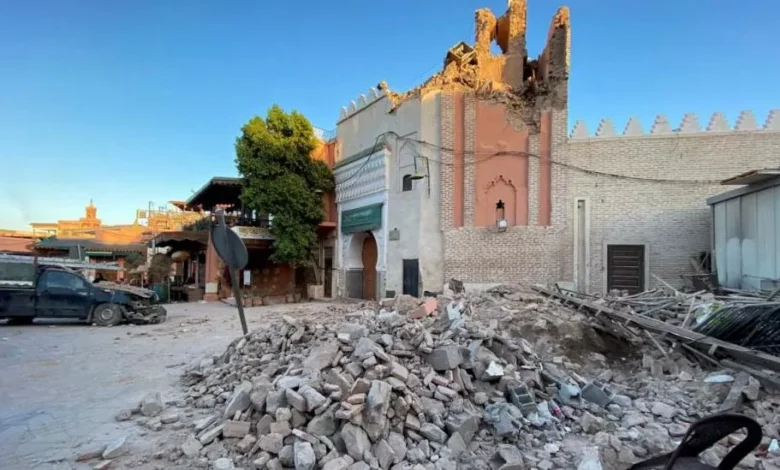 A strong earthquake of magnitude 6.8 has struck central Morocco, killing at least 632 people, the country's interior ministry says.
The epicentre was in the High Atlas Mountains, 71km (44 miles) south-west of Marrakesh, at a depth of 18.5km, the US Geological Survey said.
The quake struck at 23:11 local time (22:11 GMT) on Friday. There was a 4.9 aftershock 19 minutes later.
People died in Marrakesh and several areas to the south, the ministry said.
Many of the victims are believed to be in remote areas.
The interior ministry said the earthquake killed people in the provinces and municipalities of al-Haouz, Marrakesh, Ouarzazate, Azilal, Chichaoua and Taroudant, adding that at least 329 people have been injured.
Many people spent the night out in the open as the Moroccan government had warned them not to go back into their homes in case of severe aftershocks.
Hospitals in Marrakesh have seen an influx of injured people, and the authorities have called on residents to donate blood.
There are also reports of families trapped under the rubble of their homes in the city, and damage to parts of the Medina, a Unesco World heritage Site.
Some buildings in the have collapsed, one resident told the Reuters news agency. Several clips on X show buildings crashing down, but the BBC has not identified where they were.
Dust could also be seen surrounding the minaret of the historic Kutubiyya mosque in Marrakesh, a major tourist attraction near the old city's main square.
https://emp.bbc.com/emp/SMPj/2.50.4/iframe.htmlMedia caption,
Watch: Dust surrounds historic Kutubiyya mosque sparking fears of collapse
One man described feeling a "violent tremor" and seeing "buildings moving".
"People were all in shock and panic. The children were crying and the parents were distraught," Abdelhak El Amrani told the AFP agency.
He said power and phone lines were down for 10 minutes.
Marrakesh resident Fayssal Badour had been driving when the quake hit.
"I stopped and realised what a disaster it was," he told AFP. "The screaming and crying was unbearable."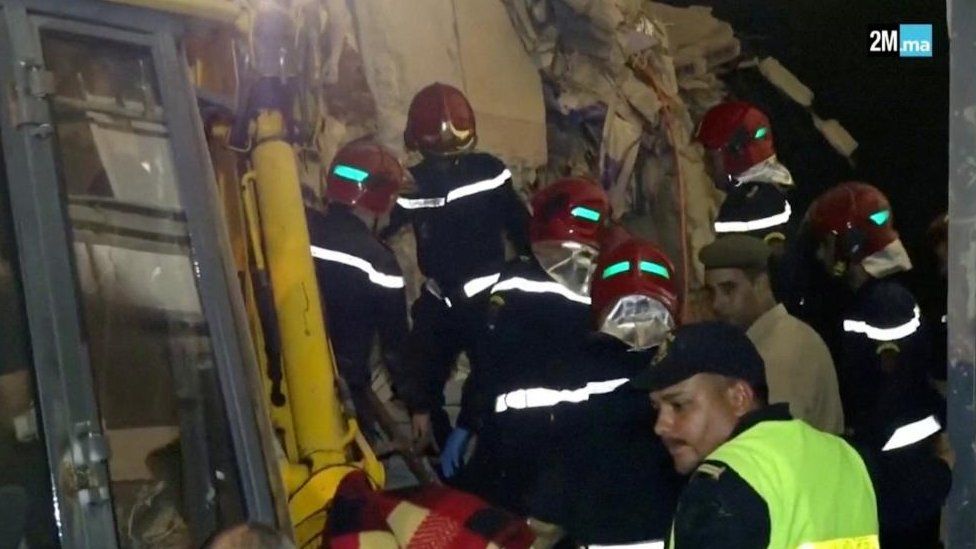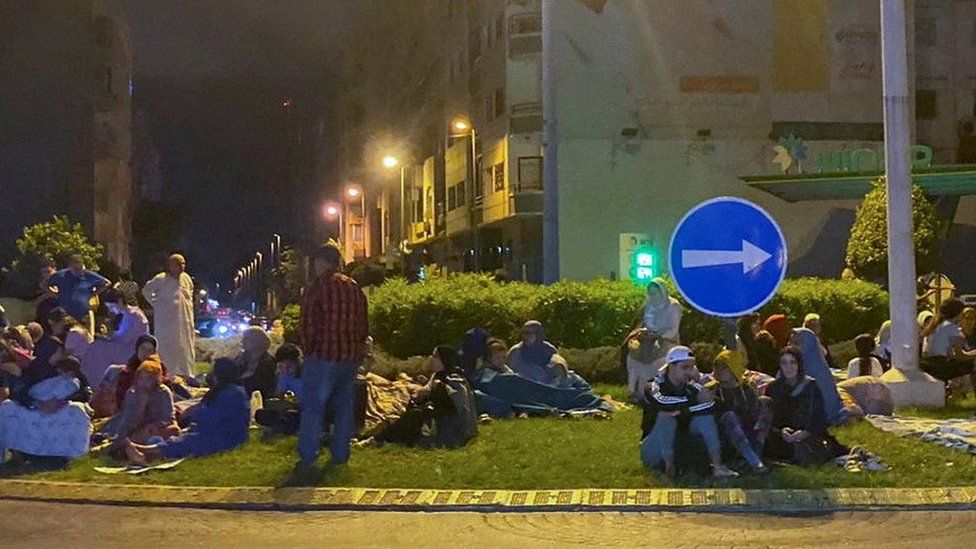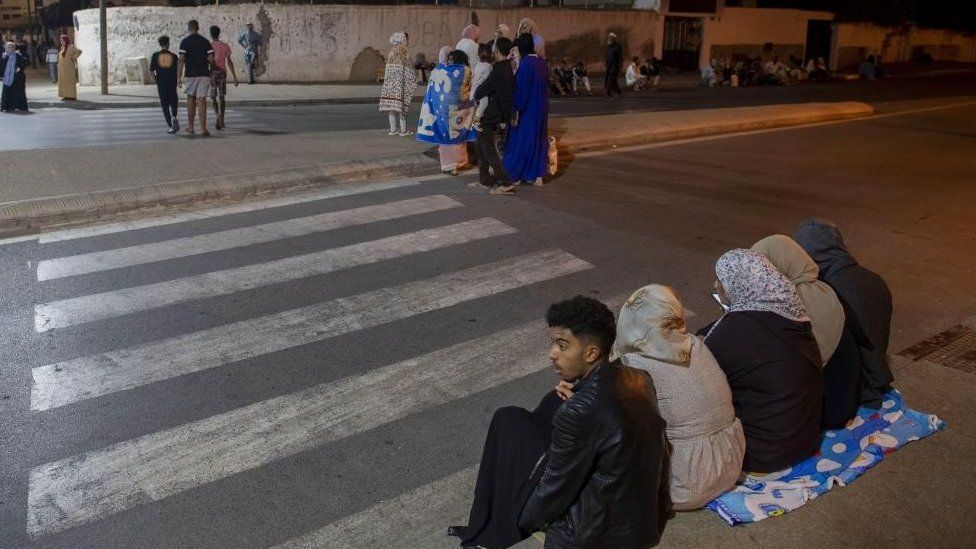 The quake's epicentre in a remote area of the High Atlas Mountains was relatively shallow – and tremors were also reportedly felt in the capital Rabat, some 350km away, as well as Casablanca and Essaouira.
Simple buildings in mountain villages near the epicentre may not have survived and, being remote, it may take some time to determine casualties there.
British journalist Martin Jay, who lives in Morocco, was woken by the sound of screams.
He told the BBC Radio 4's Today programme there was "this weird evening of almost every single town in Morocco, most people are sitting on the ground outside of their houses or apartment blocks, because they were afraid of the second earthquake which they predicted would come two hours later. Thank God it didn't".
The quake was also felt in neighbouring Algeria, but officials said it had not caused any damage or casualties.
Speaking at the G20 summit in Delhi, Indian Prime Minister Narendra Modi said the international community would come to Morocco's aid.
Spanish Prime Minister Pedro Sanchez offered "solidarity and support to the people of Morocco". French President Emmanuel Macron said he was "devastated" by the news and offered assistance to Morocco.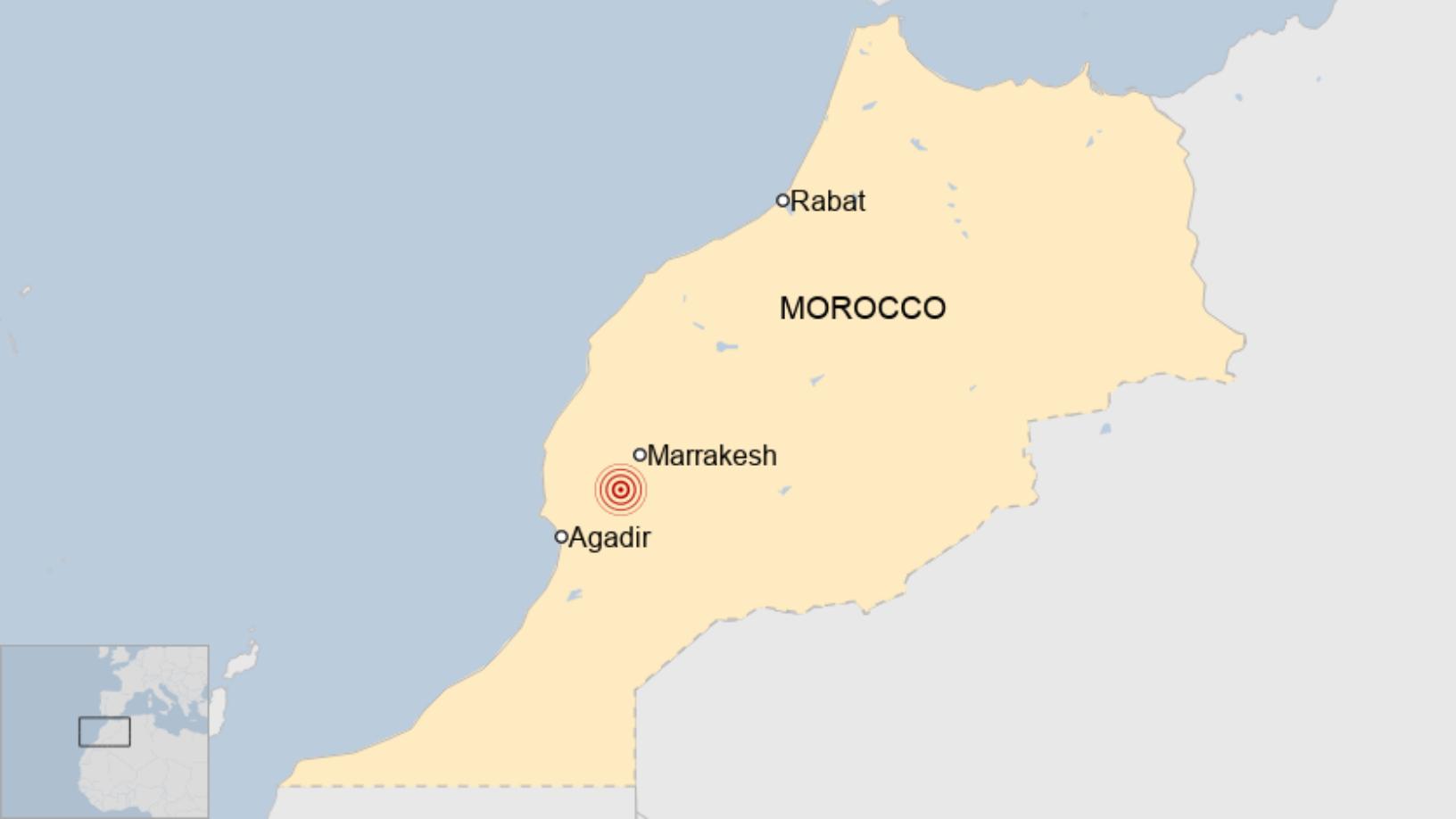 Source: BBC