Muslim Students' Society endorses Tinubu/Shettima, says APC candidate best for Nigeria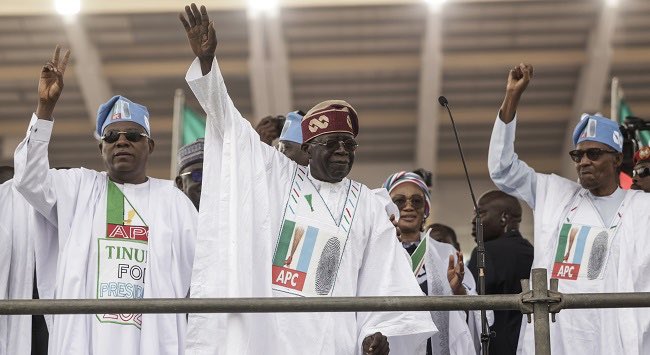 The Muslim Students' Society has endorsed the presidential candidate of the All Progressives Congress (APC), Asiwaju Bola Tinubu.
The society endorsed Tinubu in a statement signed by its Chairman, Muhammad Bin Isa and Secretary General, Auwalu Inusa.
The statement reads: "In matters of great importance and unquantifiable consequence, at a critical point in our national history we cannot afford to sit on the fence. Where the general interest of the Muslim Ummah is at stake, silence becomes a deadly hypocrisy.
"Having said this, in view of the circumstances surrounding the general election which comes up across the nation on Saturday, it has become necessary to take a definite stand – to stand firmly where we have reasons to believe, the candidate has the most coloration of our identity and capacity to bring about stability and progress in the areas of the economy, security, education, and other sectors to facilitate self-actualization for our members.
"After due consultations with leaders of the Society at various levels, members and elders, we have come to the sincere conclusion that for the presidential election Asiwaju Bola Ahmed Tinubu is the best candidate for the good of the Muslim Ummah and our members across the 19 states of the North. Come Saturday, February 25th, we are calling on all our members across the North, to come out en masse, to vote for the ticket that is completely Muslim – vote for Asiwaju Bola Ahmed Tinubu and Kashim Shettima as President and Vice-President of the Federal Republic of Nigeria, respectively.
"We should equally mobilize all our family and friends to vote for Asiwaju Bola Ahmed Tinubu. For state gubernatorial, national and state assembly elections, the best candidates should also be voted for without recourse to their party affiliation.
"We make this call out of the sincere conviction that going by Asiwaju's antecedent, his government has the potential to benefit our members, the Muslim Ummah and the entire nation more than any of the other contending candidates.
"Additionally, Asiwaju's courage in picking a Muslim as a running-mate against all the opposition by CAN will offer a new definition our political might as a powerful force to reckon with in the political affairs of this nation. In sum, Tinubu/Shettima ticket is our own – if it fails our might is put to question. Tinubu's victory is a bold metaphor which in clear rhetoric reaffirms our undeniable stake in Nigeria's politics and development.
"Finally, when we come out to cast our votes on Saturday, we must conduct ourselves peacefully in an orderly manner and abide by the electoral regulations put in place by the Independent National Electoral Commission to ensure the smooth conduct of the election."