NEWS ANALYSIS: Our indifference to railway crossings, traffic safety rules, By Bamidele Johnson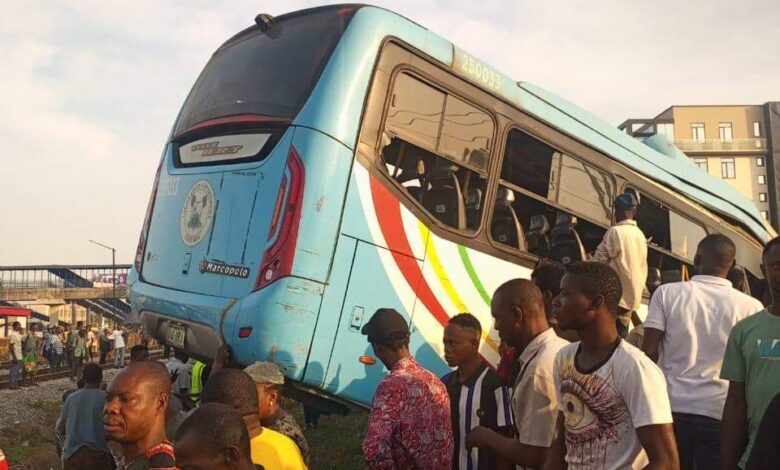 Awful day in Lagos. A train slicing through a BRT bus, reportedly leaving many injured and a few confirmed dead, is a tragedy that may get worse for us, collectively and individually, if the death toll rises and/or permanent disabilities ensue. I do not have the details of how the accident happened, but I strongly suspect that the bus driver was at fault. On the evidence the videos and still photos seen, the bus went across the rail and the train unable to stop, speared through it. We may ask how and why that could even have happened, given that a notice of the train approaching must have been served.
No need to ask, sadly, given that we have a value-deficient road culture. Road signs are generally deemed as decorative. Traffic offences, including of the grievous variety, are treated as minor irritations, encouraging road users-drivers, riders-to see the breaking of traffic rules as a sport. Traffic rule-breaking seems to provide dopamine surges, which create an addiction that yields blindly reckless drivers and riders. The driver of the ill-fated bus probably thought he could drive the bus through the eye of a needle, the kind of thing Okada riders do. Even respectable-looking, shirt and tie-wearing types can't be arsed about the rule prohibiting entering the yellow box at intersections and regard traffic lights the same way as Christmas lights. Driving in prohibited directions enjoys a near-universal approval.
We care little, if at all, about riding or driving without headlights. Overtaking by the right, clearly illegal, is nothing to us. The Okada man actually thinks it is legit. We excel at treating traffic regulations with the levity of children's nursery rhymes Back to the train accident. We will have more. Motorists, bizarrely, do not see waiting on the railway line, a giant step towards unforced suicide, for vehicles ahead to move. I see this often at Fagba in Iju, Lagos. Traffic management officials, perhaps overworked, unbothered or generally useless, just walk on by.
But I wonder why adults, including those who wail about the recklessness of Okada riders, need to be told that they are sending an invitation to death by waiting on a rail track. Twenty-three years ago, at Fagba, a Peugeot 504, which stood on the railway line like it was in an auto showroom, and those sat in it were chewed up by an oncoming train. The railway crossings I grew up knowing were shut off to vehicular traffic when a train approached. In fact, there were signs notifying motorists of crossings ahead well before they got to them. In the last 30 years or so, I do not remember seeing bars blocking off any railway crossing in this country.
We need these bars back at rail crossings. More importantly, we need a more brutal, not sterner, enforcement of traffic regulations, as well as more robust enlightenment/education.
Like me, there are many drivers averse to gung-ho driving. Our driving is like that of a retired headmaster or priest of an orthodox church, not that a modern church. I do not trust the latter.
It matters little, though. I just want a better road culture that better protects other drivers, riders and pedestrians. My thoughts are with the families of those killed and I wish the injured speedy and full recovery.