NGF chides CBN over Naira swap, warns Nigeria risks induced recession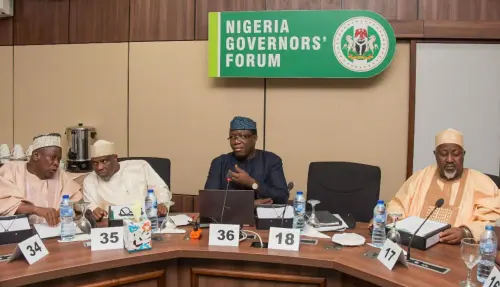 The Nigeria Governors' Forum (NGF) has chided the Central Bank of Nigeria over the present hardship being experienced in the country as a result of the Naira swap.
The governors in a communique issued at the end of their meeting on Saturday by the NGF Chairman and Sokoto State Governor Aminu Tambuwal said that the CBN failed to provide enough cash for the needs of Nigerians.
It also warned that the country was at a risk of recession.
"The argument by the CBN for what it describes as the astronomical increase in the currency in circulation as the basis for this policy is not supported by its own data," the communique reads.
"According to the CBN, the currency in circulation increased from N1.4 trillion in 2015 to N3.23 trillion in
October 2022. The Bank appears not to have taken into consideration the increase in the size of the country's nominal GDP over this period, the doubling of consumer prices, the rising
population, and the impact of the humongous Ways & Means advances to the federal government by the Central Bank of Nigeria over this period.
"In the circumstances, it is safe to draw either of two conclusions – the CBN data may be incomplete or in fact, Nigerians may have done exceptionally well in the transition to a cashless economy.
"In addition, considering the sizeable informal sector in the nation, the amount of banknotes created in exchange so far by the CBN implies it vastly underestimated the economy's actual cash needs.
"The inability to use the new notes has had far-reaching economic effects, leading to the emergence of the Naira black market, severe food inflation, variable commodities prices based on the method of exchange, and long queues as well as crowds around Automated Teller Machines (ATMs) and banking halls across the country with individuals hoping to get a fraction of their money in new notes to meet their daily livelihood."