Nigeria held the world spellbound as 'Elesin Oba', King's Horseman, premiered at TIFF, By Omoniyi Ibietan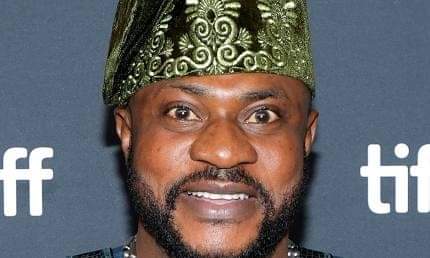 Again, despite our challenges, the world, particularly the art world of film, was reminded of how great Nigeria is, at the ongoing Toronto International Film Festival, as Soyinka's DEATH AND THE KING'S HORSEMAN, produced by Mo Abudu, came alive again before the global film community.
As I read about this feat, I got nostalgic. In 2006, as the Special Media Advisor to Nigeria's Minister of Information and Communication, Frank Nweke Jr, I did a live reporting via instantaneous emailing at the 2006 edition of TIFF, where Tunde Kelani's ABENI, the trans-border love story premiered. For an hour after show the audience was in awe, they formed clusters, discussing both the cultural revelations and Uncle TK's mastery as an accomplished cinematographer.
But I feel even more joyous to learn of the re-enactment of Nigeria's feat at this year's TIFF, the 47th edition of possibly the world's most attended film festival. Soyinka's Death and the King's Horseman, was written by the Nobel laureate shortly after the Nigerian civil war, while he was on political exile in the UK, and sojourning as a fellow at Cambridge University's Churchill College. On March 1, 1975, the play came on stage for the first time at the University of Ife (now Obafemi Awolowo University).
This modern adaptation in film, directed by Biyi Bandele, who couldn't wait (as he transited on 7th August 2022), may God rest his soul, came auspiciously because we need more great things to bouy the national psyche from wreckage.
But the thematic of 'Iku Elesin Oba' remains unchanged. As Soyinka demonstrated in THE LION AND THE JEWEL, it is not as much of a clash of culture, in the manner Samuel Huntington depicted politically in the "CLASH OF CIVILIZATIONS", Death and the King's Horseman, is an unvarnished intersection of cultures, and perhaps a manifesto for a union. In addition, the centrality of duty is a recurring theme. Indeed, we must all fulfil the call to duty and refuse the temptation to be distracted.
An adaptation of a real practice in Oyo, ostensibly 'stopped' by colonial Britain, 'IKU ELESIN OBA' (DEATH AND THE KING'S HORSEMAN), recreates a ceremonial in which Alaafin's horseman was "expected to commit ritual suicide following the death of the king".
Though excited and filled with a sense of importance, the King's Chief Horseman got distracted but as we have seen in Shakespearean tragic heroes – Romeo (possibly Shakespeare's most famous tragic hero), King Lear, Othello, Macbeth, Antony, Hamlet – Elesin also ended up as a tragic hero.
I can imagine the show put up in the movie by Odunlade Adekola (the lead cast), Omowunmi Dada, Kevin Ushi, Jide Kosoko, Deyemi Okanlawon (remember the groom in BLOOD SISTERS on Netflix), and guest artistes including our own amazonic and aging thespian, Taiwo Ajai-Lycett, and Ajoke Silva.
In 2013, our own Chimamanda Adichie's HALF OF A YELLOW SUN adaptation also featured andcwas enthusiastically received as it premiered at Toronto International Film Festival in 2013. It was also directed by the late Biyi Bandele. I remember how Vanguard Newspapers excited me with it caption, "Adichie's Half of a Yellow Sun rocks Toronto film festival".
Now, I am waiting for our media systems to re-story the feat at Toronto 2022, with more fervour, enthusiasm and patriotic zeal as we had in 2006 even before the sge of digital public communication culture. I recall how those great journalists on my mailing list reported the premiere of ABENI. The titles still echo: "ABENI goes to Toronto"; "When Tunde Kelani Made Nigeria Proud"; "Nollywood is a Model for the World".
Let's go! Let's do it again!