Nigeria, Netherlands to co-host migration dialogue at Hague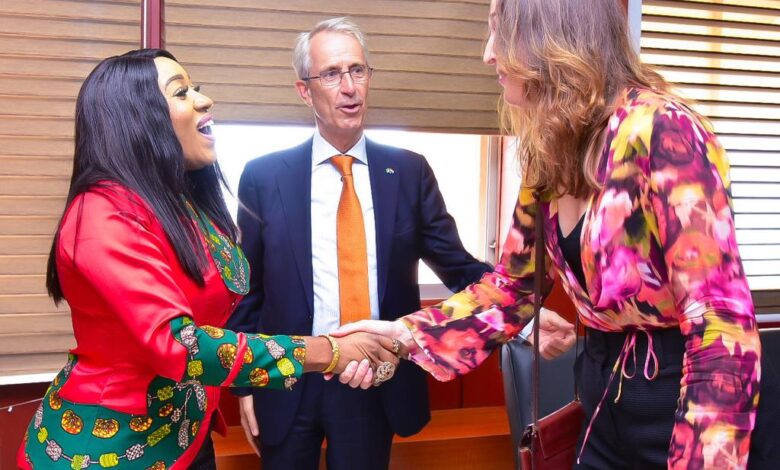 The Ambassador of the Netherlands paid a courtesy visit on the Honourable Minister of Humanitarian Affairs and Poverty Alleviation Dr Betta Edu and congratulated her on the ministerial appointment saying that her successful antecedents speak volumes.
He said the visit was also to discuss issues on migration partnership between Netherlands and Nigeria. He informed her of the outcome of the Rabat Process meeting, which requires Nigeria and Netherlands to host a migration dialogue scheduled to hold from 19th to 20th October 2023 and that 58 countries have signed the agreement.
He further said there will be a side event on youth development as ways to reduce illegal migration through the desert and Mediterranean Sea.
The meeting will be an avenue for Nigeria to understand opportunities and needs and how Europe can support young people in Nigeria.
It will also give them the opportunity to understand climate change induced mobility..
Also in the meeting was the Acting Head of NCFRMI, Ambassador Catherine Udidah, who further expressed the importance of The Rabat Process, which is a migration dialogue between Europe and Africa.
"It's the agreement of 58 countries in Europe and Africa, which has the International Centre for Migration Policy Development (ICMPD) as its secretariat and chaired by Morocco, which now host the rotational Presidency. Nigeria is one of the 4 countries that just got elected into the Steering Committee.
Nigeria and Netherlands are co-hosting a thematic event on Youth and Development in the Hague on the 19th and 20th of October 2023. The Honourable Minister is expected to chair the two days event" She expressed
Responding, the Honourable Minister thanked the Ambassador for engaging and reemphasized the Federal Governments' commitment to reduce poverty according to the Renewed Hope agenda of President Bola Ahmed Tinubu. She said that innovative measures must be taken to provide opportunities for young persons and create jobs so that they become less attracted to seeking illegal migration into Europe by all means.
"President @officialABAT is creating lots of opportunities and Jobs for young persons in Nigeria and the country must work with Europe to end the countless death that occur in the desert and Mediterranean Sea as well as the hard conditions migrants the are exposed to when the illegally arrive in Europe." The Honourable Minister added
Dr Betta Edu also called for support to the humanitarian and poverty alleviation drive in the country.
"It would be great if both countries could present different perspectives on the migrants and give opportunity for young Nigerians. It is also hoped that both countries will explore the issue of circular migration," she urged them.
The meeting ended with the Netherlands Ambassador committing to support Nigeria and the ministry on several fronts.