Nigerians should support Tinubu, he has passion – BUA Chairman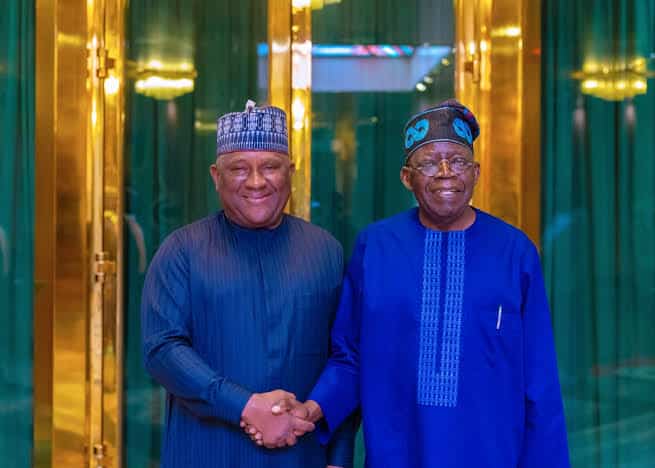 Chairman of BUA Group, Abdulsamad Rabiu, on Tuesday called on Nigerians to support the economic policies of President Bola Tinubu.
He said this to state house correspondents after meeting with President Bola Tinubu in his office.
He also said it's a collective effort and responsibility to ensure that the country succeed.
"During my discussions with Mr President, I could see the passion, I could see the burning desire, the commitment in him to deliver, but again, Mr President alone cannot do it, we need to come and support him to ensure that he delivers. I believe I'm speaking the minds of all Nigerians by that.
"As a Nigerian and also as a business owner, I want to see a Nigeria that is stable, a country that is prosperous and we can only achieve that if we come together to support the government, support one another and support Mr President.
"So it is our collective responsibility to do that and I'm sure all Nigerians will agree with me that the support is needed so that we can progress and prosper because without stability, it will be very hard, we'll not be able to achieve the prosperity we need in this country.
"So for us to prosper, we need to be stable, for us to be stable, we need to come together and support each other, support our government. Nigeria is the only country we have and we must all come together and support one another to ensure that we get the prosperity that we so much desire and deserve," he said.
He also disclosed that he informed President Tinubu about the current price of cement sold by his company at N3,500, saying the president has agreed to come for the commissioning one line of his cement factory in Sokoto state.
"It is actually taking effect. The price of cement from BUA Group has been reduced from N4,500 to N3,500 per bag. As a matter of fact, I just discussed the issue of cement with His Excellency, Mr President.
"We have two lines that we'll be commissioning, God willing, by the end of the year. Mr President has agreed to come and commission one of the lines in Sokoto in January, God willing and with that we'll have additional volumes and once that happens, the price of cement will go down, lower than what it is we have across the country and we're ready to do that, we're ready to support," he said.
On the harsh effect of the reforms introduced by the administration, especially as it affects foreign exchange market, he said, "the unification of the Naira (foreign exchange windows) needed to be done, the subsidy removal was needed because we simply could not afford what we were doing.
"So I believe we should just be a bit patient, things are already getting better, if you check you'll see that the exchange rate in the black market has gone to as high as N1,300 to $1, today, it's about N1,150 and it will continue to come down.
"A lot of issues, uncertainties and panic, that is settling and we're seeing a situation where the exchange rate is coming down because once it gets to a level where people are not able to afford it, nobody will buy and if you don't buy, it will come down.
"So my message is that we should be patient, things will definitely get better. Nigeria is endowed with huge resources, we're a country of over 220 million people with huge resources across the country.
"If you look at the business we're in now, the cement business, almost 80% of everything we need to produce cement is here in Nigeria, local and those are the kinds of things we need to encourage mining, agriculture because we have the land, we have the people and we have the climate and the water.
"So all we need to do is to harness these resources that God has endowed us with. I believe that."