NLC, TUC dump LP, drum support for Tinubu, Sanwo-Olu, APC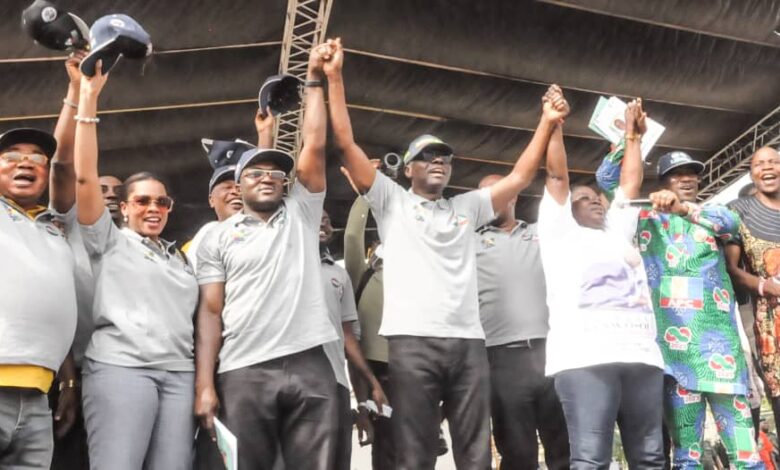 Organised Labour in Lagos State on Thursday publicly dumped the Labour Party (LP) and all its candidates for the forthcoming general elections by declaring and mobilizing support for All Progressives Congress (APC) and its candidates.
The workers' union under the umbrella of the Nigeria Labour Congress (NLC) and the Trade Union Congress (TUC), Lagos State chapters at a rally tagged 'Labour 4 Sanwo-Ou' held at the police college, Ikeja declared their total support for Governor Babajide Sanwo-Olu's re-election's bid, as well as other candidates of his party, APC, contesting for elective posts.
Leader of NLC in the state, Agnes Funmilayo Sessi who led her members to the rally, said Thursday was the first time that labour unions in the state would come out to endorse the candidates of any political party in the state.
She stated that the union had been sitting on the fence but now wants to take its faith in it hands by supporting Governor Sanwo-Olu's second term re-election bid and other APC candidates including, it's presidential candidate, Bola Ahmed Tinubu.
"Today is not the day of making speeches, because before we came here, we all agreed. We had our congresses and at our congress, we have done something very important. We only want to come and display it publicly. What we have done right in our house, let us show it to the world. This is the first time that Labour in Lagos State will come out openly like this to come and show support and solidarity, to come out to endorse any candidate of any party. We have never done it before. but we are doing this because of Governor Babajide Sanwo-Olu.
"Some people might be surprised why we come out , we are not politicians. We have only been sitting on the fence but this time around, we want to be part of it so that we can be part of the government. "We have come out with our full chests because this government has done good things for us.
"We are also endorsing Asiwaju Bola Ahmed Tinubu for the president of the Federal Republic of Nigeria. We will vote for him," she said.
State TUC Chairman, Gbenga Ekundayo said: "There is no need beating about the bush. You have heard it well. Each time we meet Mr Governor, he responds to us. Democracy is about inclusion.
"We have tested Mr Governor and we have found him to have listening ears and a large heart to accommodate us."
In his response at the rally, the governor pledged not to take for granted any support given for his re-election, as he would do much more than he has done in his first term, making the lives of the electorate and their children better.
"I want to thank all of you over this great endorsement. We will not take it for granted. What this tells us is that we must do a lot more. That's when your lives and that of your children will be better. We will not disappoint you.
"I want to recognize all the workers, including those in the private sector. This is Lagos, the center of excellence. I want to say you have chosen well. You have come out in large number and I want to assure you that we are coming back bigger, stronger and better for the general people of Lagos State. We will ensure the value of your lives is not compromised," he said.
In his welcome address, Special Adviser to the Governor on Labour Matters, Babatunde Williams expressed joy over the willingness of the workers to identify with the governor.
Speaking on behalf of Public Servants Joint Negotiating Council, Segun Balogun stressed that the governor had shown love towards civil servants and that necessitated the need for the endorsement.
Similarly, Sanwo-Olu also received a number of defectors from opposition parties during the APC Lagos West rally at the Federal Government Secondary School, Ijanikin.
The defectors are from Democratic Peoples Party (DPP) led by Are Folorunsho Owolabi, Peoples Democratic Party (PDP) led by Muideen Akinsanya and Action Alliance, led by Idowu Sesi Michael.
Addressing APC supporters at the rally, an elated Sanwo-Olu thanked the residents for trooping out in large number to show solidarity for the ruling party candidates in the Badagry division.
He said: "We have done a lot for the people of Badagry and we are here to consolidate on our achievements. I'm happy you are strongly standing with us in the last three and a half years.
"We have delivered on the rail and I'm assuring you for the second phase of the Blue Line which will be from Marina to Okokomaiko, we shall deliver it between two to three years."
The governor expressed confidence that Badagry residents would deliver to APC in the forthcoming elections.