Obasanjo, Tinubu and leadership acumen, By Segun Ayobolu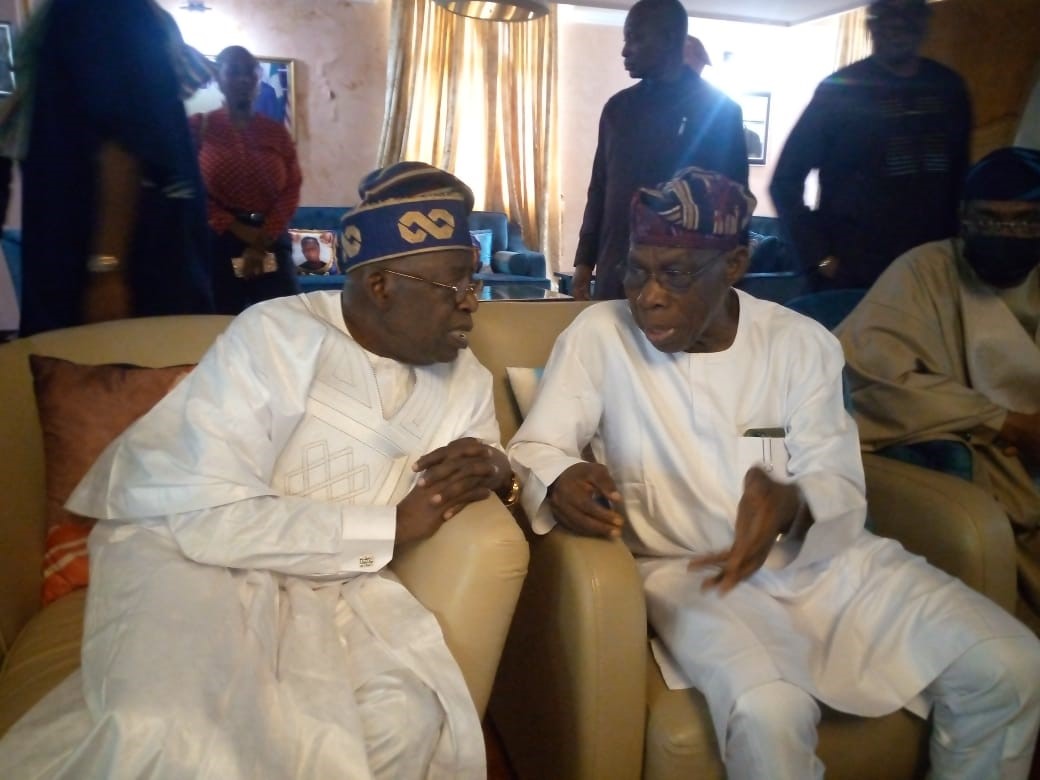 There can be no disputing the fact that every successor to Asiwaju Bola Ahmed Tinubu since the latter's exit from the governorship of Lagos State after two terms in 2007 – Mr. Babatunde Raji Fashola (SAN), Mr. Akinwumi Ambode and now Mr. Babajide Sanwo-Olu – have been men of competence and accomplishment with proven and impressive records of performance. But none of these men had hidden the fact that at the core of their successes was the firm foundation laid for the state by the pioneering administration of Asiwaju Tinubu in this dispensation between 1999 and 2007. They were all largely guided at relative levels of fidelity by a 25-year Developmental Master Plan designed by the Tinubu administration to guide the trajectory of progress in the state from 1999 –2024. And it is instructive that, in one way or the other either as members of the State Executive Council or the State Bureaucracy, they were part of the envisioning and implementation of that Master Plan. In several ways, each of these successors of Tinubu improved on the level of performance inherited from his predecessor and Lagos continues to be the better for it as she is not only the country's undisputed developmental pace setter, she has become the fourth largest economy in Africa.
Incidentally, a few weeks ago, Mr. Sanwo-Olu inaugurated the first phase of the 13km Blue Line Lagos Light Rail project designed to run from Mile 2 to Marina, a project that will transform and revolutionize the face of public transportation in the country's commercial and economic nerve center. The governor, it is worthy of note, had been part of the conception of the project right from the days of the Tinubu administration when he was a member of the State Executive Council. Work on the Red Line Lagos Light Rail Projuct to run from Agbado through Agege to Oyingbo is steadily ongoing. At the last Ehingbeti Lagos State Economic Summit, another initiative that can be traced to the Tinubu administration and sustained by his successors, Sanwo-Olu inaugurated the new Lagos State Development Master Plan to run from 2022-2052, which will take off from where the last plan is closely reaching its terminus. The point is that development in Lagos State over the last 25 years has been planned, progressive, systematic and continuous.
The big question is, as the first President of Nigeria in this dispensation between 1999 and 2007, did General Olusegun Obasanjo lay a solid and firm foundation for the continuous and sustained progress of Nigeria after him and did he lay a viable pathway for administrations succeeding him to follow and achieve success? The answer is a resounding no. Yet, in his infamous and characteristically verbose New Year open letter to Nigerians in which he endorsed the presidential candidacy of Mr. Peter Obi of the Labour Party (LP), the Ota farmer gave the impression that he is the best thing that had ever happened to this country in terms of leadership. I remember that in his now largely forgotten book, 'Not my Will', Obasanjo had boasted that he had attained the office of leadership in Nigeria that the great Chief Obafemi Awolowo had sought in futility all his life at a relatively young age and with considerable ease. His unreflective mind so obviously lacking in depth could not ponder what quality of governance he offered the country as military Head of State, the credibility and integrity of the political transition programme organized by his military regime or the caliber of leadership that regime bequeathed to the country at the exit of the military in 1979.
What is most shocking is that when fate would entrust the leadership of the country in his hands again as elected President on the platform of the Peoples Democratic Party (PDP) in 1999, Obasanjo showed that he had learnt no useful lessons from the failures of his first coming in the pre-second republic military dispensation. In terms of policy conceptualization and implementation, his administration was disjointed and disarticulated. In his first term between 1999 and 2003, Obasanjo completely abandoned the management of the economy to his Deputy, Alhaji Abubakar Atiku, while he junketed round the globe pretending to be an international statesman. Of course, a wily Atiku implemented a wide-ranging privatization programme that saw the sale of public assets to cronies and friends in a most opaque and brazen manner.
Incidentally, in a video that has just gone viral online, a former aide of Atiku, Michael Achimugu, captures the PDP presidential candidate elaborating on how he had set up a Special Purpose Vehicle (SPV) on behalf of himself and Obasanjo through which humongous amounts of public funds, including N100 million from former governor of Plateau State, Joshua Dariye, was siphoned into party and private pockets. We can recollect the famous damaging accusations and counter accusations between Obasanjo and Atiku over the mutual mismanagement of funds of the Petroleum Trust Development Fund (PTDF). How about the widely condemned corralling of public and private entities to donate to the Obasanjo presidential library in Abeokuta, now a sprawling business outfit from which the former President benefits financially? We can go on and on citing one misdemeanor after another by St Mathew Obasanjo.
In his second term, after he had fallen out with Atiku for political reasons, Obasanjo suddenly discovered how corrupt Atiku allegedly was and took over the management of the economy. He inaugurated the National Economic Employment and Development Strategy (NEEDS) under the aegis of his Economic Adviser, Professor Charles Soludo. The programme neither halted the phenomenon of growth without development nor the continued de-industrialization that compounded the menace of mass unemployment. Unlike in Lagos, there was no policy continuity at the center as Obasanjo's successors wasted no time in jettisoning the NEEDS programme. While the late President Umaru Yar'Adua implemented his own 7-point Agenda, President Goodluck Jonathan when he assumed office after Yar'Adua's demise, introduced his own Transformation Agenda. The lack of policy continuity arising from Obasanjo's defective leadership is one of the reasons for the protracted crisis that continues to plague the Nigerian economy even though a plethora of other factors are also implicated.
Obasanjo claims with characteristic pomposity in his letter endorsing Obi that "I have come to realize a number of factors in character, attributes and in attitude that are necessary in the job of directing the affairs of Nigeria successfully and at a time like this". He goes on to mention these as track record, vision that is authentic, honest and realistic, character and attributes of obedience to God as well as physical and mental capacity. Beyond his mere assertions that Obi has an edge over other major candidates in terms of his criteria, Obasanjo gives no concrete reasons as regards how he came to this conclusion. In any case, is Obasanjo qualified to lecture anybody on leadership attributes or succession? The answer is a sad no.
At the expiration of his two-term tenure in 2007 and the calamitous fate of his Third Term Agenda, Obasanjo virtually forced then former Katsina State governor, the late Mallam Umaru Yar'Adua, on the nation in his scandalous 'do or die' 2007 elections as President. Yar'Adua was an easy going, nice and humble man. But just like Peter Obi now, all he had going for him as governor of Katsina State was his frugality and ascetic disposition. Not much is also known of the accomplishments of Dr. Jonathan outside Bayelsa State as governor of the state for two terms. Obasanjo obviously made his decision to back these two men to succeed him as President and Vice President, respectively, either most cavalierly or for the most cynical of reasons. Nearly three decades earlier, Obasanjo's regime as military Head of State had organized a political transition programme that had seen the emergence of another very nice, gentle and humble but largely ineffectual Alhaji Shehu Shagari as elected President on the platform of the National Party of Nigeria (NPN).
Yet, there were several tested and accomplished politicians, statesmen and administrators such as Chief Obafemi Awolowo, Dr. Nnamdi Azikiwe, Mallam Aminu Kano, Chief Anthony Enahoro or Alhaji Waziri Ibrahim who could have offered the country more astute and competent leadership than the NPN did at the time. Perhaps if the Obasanjo regime's transition programme had been handled differently with an eye on the quality of its successors, the Second Republic (1979-1983) would have taken a different, more positive turn and Nigeria's political as well as socio-economic trajectory would have been brighter and more inspiring.
The brutally frank and honest Umaru Yar'Adua was quick to admit that the election that brought him to power, a poll organized by the Obasanjo administration, was largely fraudulent and lacking in credibility and went ahead to empower a panel to suggest far reaching electoral reforms. He also wasted no time in reversing a number of his predecessor's policies such as the hurried sale of the country's refineries towards the tail end of the Obasanjo administration. When another of his 'mentees', Dr. Jonathan came to power, he also proved to be his own man and Obasanjo characteristically fell out with him publicly through his famous art of caustic letter writing.
It therefore is quite baffling when Obasanjo declares most ridiculously that "Most of us in good conscience can testify to competence when we see any anywhere. What is masqueraded as 'competence' is self-interest and nepotism". Nothing in Obasanjo's career suggests that he begins to understand anything about leadership competence or the acumen to groom, nurture or select leadership successors. Although he cannot be accused of being nepotistic, his actions in public office have often smacked of self-interest through and through. His advice in this regard can thus
only be heeded at our collective peril.
In dismissing the Buhari administration as having failed woefully in his view, Obasanjo cites as an instance the grave security crises in many parts of the country. But he forgets that the inflexible and overly centralized security architecture in the country was a constant point of contention and disputation between him and Tinubu as Lagos State governor. Tinubu had always pointed out to him that the nomenclature of the governor of a state as Chief Security Officer of the state was meaningless in the absence of a decentralized policing system. Obasanjo was adamant in the preservation of the so obviously over-centralized and dysfunctional status quo. Is he not then also implicated in the security conundrum witnessed after him?
The Tinubu administration had initiated the revolutionary Enron/AES independent Power Project (IPP) to generate electricity power for Lagos – 260MW from barges in Ikorodu in the first phase and 540MW from Morogbo in Badagry in the second phase. The Obasanjo administration ensured the project never got off. The Lagos Right Rail project could not proceed at the desired pace partly because the Obasanjo administration was hesitant to give the requisite approvals from the federal government.
It is therefore difficult to see how in any way Obasanjo could claim to have been Tinubu's mentor at any time. In temper, disposition to subordinates, ideological orientation, commitment to federalist principles or democratic tenets, the two could not be more dissimilar. I think the key to Obasanjo's endorsement of Obi can be found in the concluding phase of his letter when he writes that "One other important point to make about Peter is that he is a needle with thread attached to it from North and South and he may not get lost. In other words, he has people who can pull his ears if and when necessary".
Yes, an elected leader at any level must be accountable. But that accountability on the part of the executive at any level must be to critical institutions such as the legislature as well as the political party on which platform such a person has been elected. The constitution also provides for a body like the National Council of State (NCS) made up of former Heads of State among other supposedly accomplished and wise statesman to give advice to the President as may be required. Obasanjo obviously thought Umaru Yar'Adua or Goodluck Jonathan were needles whose threads were in his hands and whom he could manipulate as he willed. He calculated that he could still pursue his Third Term agenda indirectly through them. He was disastrously wrong. Eminent leaders can of course always seek audience with elected leaders to offer advice if they are so inclined.
It is not of course that Obasanjo did not have a number of academic and professional stars in his administration. But most of these were mainstream, orthodox intellectuals and administrators at best, brilliant but imprisoned to received theories and ideas and thus incapable of thinking outside the box. It was also why Obi's administration as governor in Anambra state was largely humdrum, mediocre and demonstrating little of dynamic or creative thinking. It was therefore inclined to save money because it probably could not devise what to do with the funds to address infrastructure deficit or enhance the quality of lives of the citizenry. Not in terms of quality of leadership, policy quality and continuity or appropriate leadership nurturing and succession has Obasanjo at any time demonstrated superior acumen to Tinubu.
Source: First published in The Nation Newspaper