Obaseki begs Edo women to vote PDP, protect him against impeachment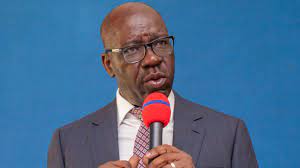 Edo State Governor, Godwin Obaseki has begged the women of the state to save him from impeachment by voting for the Peoples Democratic Party (PDP) candidates in the March 11 state House of Assembly elections.
Obaseki made the appeal over the weekend at a meeting with women from the 12 wards in Oredo Local Government Area of the state to solicit support for the PDP candidates.
The governor spoke through his Chief of Staff, Osaigbovo Iyoha, saying that his government will sustain reforms and policies to ensure women's empowerment and welfare.
He alleged that the All Progressives Congress (APC) is planning to disrupt all the good works the governor is doing in Edo State, calling on the people to stop the plan to disrupt the governor and his developmental strides by rejecting APC candidates.
He said: "A vote for the PDP in the House of Assembly elections will help sustain our developmental strides. The election is for Governor Godwin Obaseki to sustain efforts at developing the state and making life more meaningful and better for the Edo people.
"Plans are ongoing by the All Progressives Congress (APC), to rig the March 11 election so as to impeach the governor and stop his developmental programmes which have benefited the people of Edo State.
"We are appealing to the people to vote for PDP and stop the enemy of the Edo people from halting our progress as a people. All our votes must be one way. It must be PDP all the way."
On his part, the Director General Edo State PDP Campaign Council, Osaro Idah, appealed to women across the state to mobilize for the party's candidates in the election and ensure their victory.
Woman Leader in Oredo LGA, Meg Aigbokhae, assured the PDP of their support, noting that the party needs victory in the election to support the governor to continue with his developmental strides in the state.