Of Obasanjo, the Jesus of Owu, and Apostle Peter Fayose, By Bamidele Johnson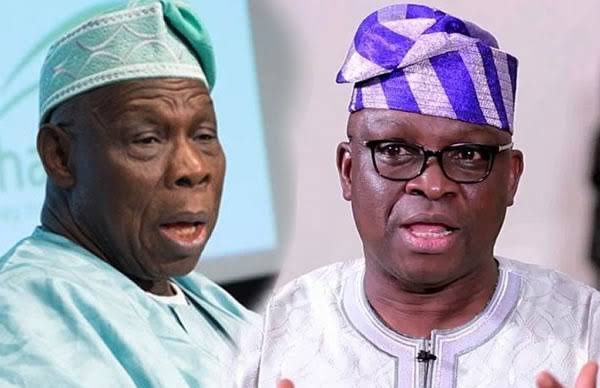 The reactions of Obasanjo and Fayose to Saturday's presidential election outcomes are nothing short of hilarious. Surprising, they are not. They both are typical of the Nigerian politician or Nigerians, even.
When a shitty process, as we had on Saturday, delivers an outcome in alignment with our expectations, it is marvellous. When it does not, it is the worst thing ever. Obasanjo, who obviously still has acres of papyrus to meet his prodigious letter-writing appetite, produced another missive to point out, with some justification, flaws in the electoral process.
Rightly, in my view, he identified INEC's bewildering shoddiness. He would have earned top marks had he stopped at that. But he would not be Obasanjo if he did not make the letter spicy. He did just that, calling for a cancellation of the poll as well as having it held all over again, suggestions that are plainly illegal.
Even at that, his views would be worth a listen, consideration even, if he had a record of running a decent electoral process, let alone a pristine one, or if his politics was not chicanery-encrusted. But his abysmal records at these, indifference to due process mark him out as a self-righteous clown.
That he is called "Baba", on account of his age, possibly suggests to him that he is on the same pedestal as Mandela. He probably also thinks the prison-to-presidency journey he shares with Mandela automatically confers on him the latter's moral force. He thinks he's transmuted from Ebora Owu to Jesu Owu.
We do not, up to now, have the official results of last presidential election under the martinet that he is. Results from 11 states, as I remember, were announced before Obasanjo, working through INEC of Maurice iwu, decided those were enough to declare the late Umaru Yar'Adua winner with 24 million votes.
The madness in Anambra and Oyo states, for example, designed and implemented by his men-the execrable Uba brothers and Adedibu respectively-should have made him write letters to himself and read such before his dressing mirror. His daughter, a former senator, once said he thought Nigeria was about him. Only.
At every point, he wants to shoe-horn himself into everything and desires Centre stage. He seems like the type of guy who, if he attended a funeral, would wish to be be corpse to scoop up all the attention. Obasanjo, unsurprisingly, is unaware that his examples are what the current crop of rule benders are following. His lack of self-awareness is Olympic standard.
Fayose was his protégé. He became governor through Obasanjo's muscle and got turfed out through same. To read him saying that the PDP has no moral right to gripe about the latest presidential election outcome is howlingly funny. He was a beneficiary of Obasanjo's muscle the first time as a PDP candidate.
His return was made possible by Jonathan, also of the PDP, using a smorgasbord of tricks and tools, including the military and civilian henchmen, Musiliu Obanikoro and Iyiola Omisore (both now of the APC). They were outed by audio recordings of the meeting held to bend the poll in favour of the PDP, which he is now advising not to gripe and take the latest outcome with calm.
He's simply delighted that his party, which cold-shouldered him enough to send him into the arms of the G-5 governors, ex-officio members of the Tinubu camp, looks likely to lose. That potential outcome aligns with his desire. Peace and calm are not his objectives.
Had the APC not looked like it would win, its grandees, many of whom are alumni the PDP and other election regulation-bending gangs, would have been saying the same thing. That is the way we are.