Ogun governorship results: APC leads in eight LGs, PDP 6, ADC 1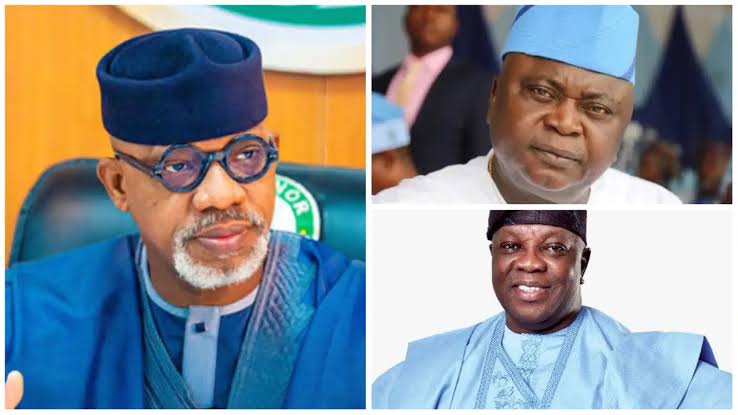 By Kolawole Olayinka, Abeokuta

The candidate of the All Progressives Congress (APC), Prince Dapo Abiodun is leading candidates of other political parties in the governorship results so far announced by the Independent National Electoral Commission (INEC) in Ogun State.
Abiodun, who is seeking reelection has won in eight local governments out of the 15 declared so far. The candidate of the Peoples Democratic Party (PDP), Oladipupo Adebutu is trailing behind him with six, while Biyi Otegbeye of African Democratic Congress ADC won only one local government.
The local government results declared so far include; Remo North, Ikenne, Egbado South, Egbado North, Ewekoro and Abeokuta North, Ijebu North, Ijebu North-East, Imeko Afon, Odeda and Ijebu-Ode.

The Resident Electoral Commissioner (REC) in the state, Niyi Ijalaye had earlier on Sunday declared opened the Ogun State collation centre.
He also announced the Vice Chancellor of the University of Ibadan, Prof. Kayode Oyebode Adebowale as the collation officer for the state.


Results so far from INEC
1. Yewa North
APC, 15,331, PDP, 11,627
2. Yewa South
APC, 15 ,047 PDP, 10 ,913 ADC 6,435
3. Odeda
APC, 11,098, PDP, 8,050, ADC, 3,651
4. Ewekoro
APC, 8,192, PDP, 7,449, ADC, 3,881
5. Abeokuta South
APC, 19,689, PDP, 24,175, ADC, 9,264
6. Ijebu North
APC, 18,815, PDP, 15, 904, ADC, 2,393
7. Ikene
APC, 9,125, PDP, 12, 472, ADC, 336
8. Ijebu North East
APC, 5,408, PDP, 7,086, ADC, 1,448
9. Ijebu Ode
APC, 12,907, PDP, 10,714, ADC, 1,348
10. Abeokuta North
APC, 14, 294, PDP, 12,622 ADC, 9,143
11. Ijebu East
APC, 7,883, PDP, 11,242, ADC, 1,885
12. Remo North
APC, 4,306, PDP, 81,77, ADC, 327
13. Ipokia
APC, 21,338, PDP, 19,189, ADC, 1,897
14. Odogbolu
APC, 9,143, PDP, 12,963, ADC, 1,281
15. Ogun Waterslide
ADC, 2,575, APC, 5,878, PDP, 7,716