Olawunmi's misreading of February 25 outcome in Lagos, By Segun Sanusi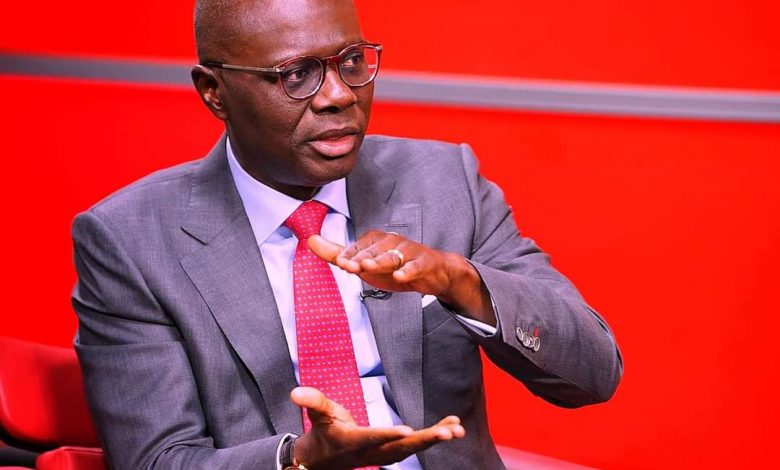 At its dawn more than half a century ago, one of the early promises of the Information Age was greater enlightenment fostered by the overabundance of information, at the click of button. This was of course signposted by the arrival of super computers in the 60s and the rise of internet (of things) in the 80s.
But the supreme irony is that, rather than serve as a resource to validate hypotheses and clarify doubts, the information superhighway appears to be nursing more of conspiracy-theorists and pseudo intellectuals these days.
I saw yet another sample of such pervasion in the deposition by Bisi Olawunmi in his recent piece entitled, "Igbo & The Battle For Lagos". Famous 20th century English writer, Aldous Huxley, forewarned that "The deepest sin against the human mind is to believe things without evidence." Put differently, it is certainly no less worse when a supposed scholar (who claims to teach at a university in Ogun State) goes ahead to make wild declaration not backed by empirical proof or evidence.
Before proceeding to interrogate Olawumi's assertions, perhaps a little light on his "background" might help the readers first to situate him beyond his advertised pedantic cognomen as a "mass communication scholar and public affair analyst with a Phd". From previous writings, he is undoubtedly a proud kinsman and rabid sympathizer of Chief Ayo Adebanjo, the factional leader of Afenifere. Of course, the latter's petty hatred for Asiwaju Bola Tinubu is already well known. The same way we watch him fail woefully in his most recent undertaking — that is, seeking to railroad the Yoruba into voting the Labour Party candidate, Peter Obi, at the expense of Tinubu in the presidential election of February 25. Alas, on the D-Day, Chief Adebanjo could not win his own polling unit in his native Ijebuland, let alone deliver Yorubaland for his anointed in Labour Party.
Now seeking to divert attention from the shame of his mentor failing in Ijebuland, Olawunmi disingenuously shifted his analytical "wizardry" to Lagos, pontificating in a manner that brings disgrace to scholarship, rooting his argument in nothing but beer-parlor conjectures. His argument in the referenced article can be summarized into two points: characterizing the victory of Labour Party as a "referendum" on Asiwaju's domination of Lagos politics in the past twenty-four years and two, an endorsement of the brazen weaponization of tribe by Labour's governorship candidate in Lagos.
First on the issue of why Labour won the presidential election by a margin of 8,000, Olawunmi only succeeded in advertising his shallowness as a scholar and sloth as researcher. Thankfully, better informed analysts have already done enough to x-ray and underscore the dynamics that propelled Peter Obi's victory not only in Lagos, but many areas hitherto thought impossible. The chief reason is the same-faith ticket adopted by APC.
In hindsight, Tinubu would now seem justified to have taken that route. Only pseudo intellectuals like Olawunmi would have failed to see the larger picture. Far more informed pundits knew way ahead that picking a Muslim running-mate was the only way Tinubu could have had a fighting chance in the predominantly Muslim north. But our pastors didn't see things that way as they interpreted it as a contest against Christianity. So, many converted their pulpits into campaign ground to openly canvass Peter Obi. In some cases, many clerics even placed "curses" on worshippers who would not vote the "Christian candidate".
Added to the foregoing was the popular disenchantment with some of the policies of the Buhari administration. For instance, against commonsense, the Central Bank under Godwin Emefiele decided to inflict the "Naira confiscation" policy on Nigerians. This added to the pain already being experienced by the generality of Nigerians through fuel scarcity. In fact, a school of thought believes that the Naira redesign and fuel scarcity were deliberately orchestrated by fifth columnists within the Buhari administration to incite voters against Tinubu's candidature as part of a larger conspiracy to ensure that PDP's Atiku Abubakar won, thereby preserving power in the north after Buhari.
This multiplicity of negative factors can be said to also account for why President Muhammadu Buhari lost his native Katsina State to opposition PDP on February 25. Just as the Director General of the APC presidential campaign, Governor Solomon Lalong, not only lost the presidential polls to Labour in Plateau State but also his own personal senatorial election the same day.
It is, therefore, intellectually fraudulent for Olawunmi to magisterially characterize Labour's narrow victory on February 25 as a vote of no confidence against Tinubu's political leadership of Lagos in the last two decades. Regardless of the outcome of the election in Lagos three weeks ago, discerning folks are surely still appreciative of the sort of leadership Tinubu has provided Lagos since 1999. Even his most implacable political foes never fail to acknowledge his impactful vision that lifted the state from the morass of decay and darkness of 1999 to the fifth largest economy on the African continent within two decades. Such feat does not happen by happenstance. It results from the clarity of thinking, boldness of vision and fidelity to processes. As President Buhari himself memorably put last year, "To know what Tinubu is capable of, you only need to picture what Lagos looked like in 1999 and what it looks like today."
Perhaps the most jejune of all is Olawunmi's assertion that APC supporters are fearful of the challenge posed by Labour Party in the coming governorship polls in the person of Gbadebo Chinedu Rhodes-Vivour. Nothing could be further from the truth. Rather, it is the party of Olawunmi's mentor (Chief Adebanjo), LP, that could be said to be unduly agitated and desperate. This apparently explains its brazen weaponization of tribe ahead of March 18. In a manner never heard or seen in history, the Labour candidate openly projects himself as "Igbo candidate" intent on "capturing" Lagos he and his enablers see as "no man's land". One would have thought such posturing would be condemned as a dangerous politics by a supposed scholar that Olawunmi tells us he is. Here is a guy who is not ashamed to openly admit that he was part of the mob that hijacked the otherwise noble sit-in by Nigerian youths in October 2020 and later turned it into "burning and looting" that left Lagos in utter ruin! Again, here is a guy who also endorses IPOB which most peace-loving Igbo have condemned.
Of course, discerning Lagos voters know too well that the state is too critical to be entrusted to a misguided rookie like the Labour candidate. The reason they will ignore Olawunmi's campaign of hate and vote Babajide Sanwo-Olu again on March 18.
*Mr. Segun Sanusi, a retired civil servant, wrote from Lagos.