Osinbajo at Ogunlesi's funeral, says his life achievements contributed to common good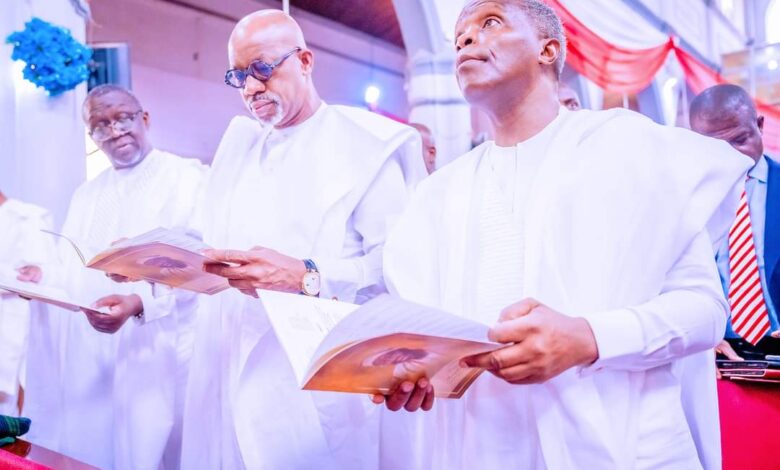 Throughout his lifetime, the late Prof. Theophilus Oladipo Ogunlesi showed what it meant to live by values necessary to build people and institutions while also contributing to the common good.
Vice President Yemi Osinbajo, stated this in Sagamu, Ogun State on Friday, at the funeral service of late Ogunlesi, who became the first Nigerian professor of medicine in 1963.
Prof. Ogunlesi died on January 19 this year. He was 99 years old.
Ogun State Governor, Prince Dapo Abiodun, other dignitaries and government officials also graced the funeral service held at the Anglican Cathedral Church of St. Paul.
The VP, on behalf of the President, and Federal Government, commiserated with the family of Prof Ogunlesi, the government and people of Ogun State, even as he eulogised the late professor of medicine for his impact on society.
"The life of Prof. Ogunlesi and those of his ilk challenge this generation to live up to the high values necessary to build people, institutions and our society and to live lives that are defined by achievements that contribute to the common good.
"it is difficult to find a Nigerian who has contributed more towards establishing the medical profession in Nigeria.
"With a long list of research achievements, he built a department and teaching hospital that became the reference of excellence in Africa and the Commonwealth. He was the founding director of the Ibarapa Community Health Programme, which became a model for primary health care interventions in many parts of Africa, and the precursor of our celebrated national primary health care system initiated by Prof Olikoye Ransome Kuti," Osinbajo said
Recalling an interview the late Professor of Medicine granted in 2017, VP Osinbajo observed that the deceased lived a life that was dedicated to public service.
Describing him as a great Nigerian, an African colossus, and a man who, by his scholarship and practice, made global impact in medicine, Prof. Osinbajo observed that the late Prof. Ogunlesi was the first professor of medicine in Nigeria, the first Nigerian head of the Department of Medicine at the University College Hospital (UCH), Ibadan, and the first president of the National Postgraduate Medical College of Nigeria.
On retirement, the late Ogunlesi was also Professor Emeritus of Medicine since 1983 at Nigeria's Premier Medical School, The College of Medicine, University of Ibadan.
Other dignitaries present at the event were the wife of Edo State Governor, Mrs Betsy Obaseki; former Ogun State Governor, Otunba Gbenga Daniel; Special Adviser to the President on Economic Matters, Ambassador Adeyemi Dipeolu, among many others.