Osinbajo meets President Ruto, seeks African governments joint position on climate change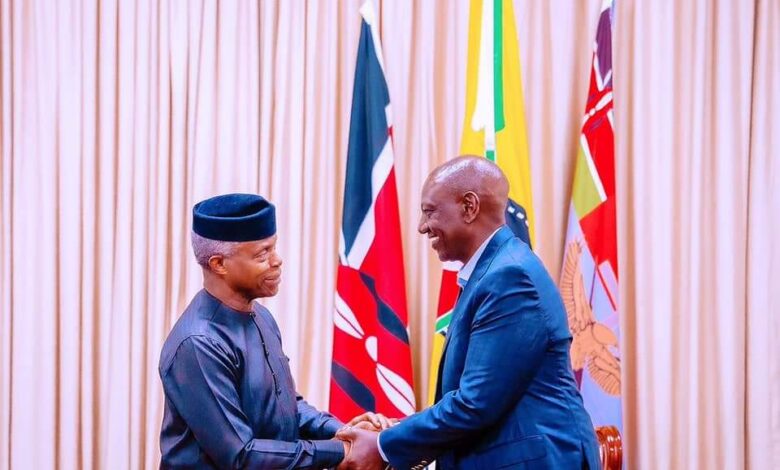 Vice President Yemi Osinbajo is advocating the coming together of African governments and leaders in order to develop a common resolve to push the Climate Positive Growth Agenda, which emphasises how the continent can offer solutions to the global climate crisis while attaining economic growth in their countries.
Prof. Osinbajo stated this on Sunday during a meeting with Africa Europe Foundation, AEF, themed "Earthshot 2023 Milestone" on the sidelines of the Ibrahim Governance Weekend programme, in Nairobi, Kenya.
The VP made the call on the same day he held a bilateral meeting with Kenyan President William Ruto at the country's State House in Nairobi.
At the meeting, both leaders agreed that Africans have to shape a narrative on the Climate Change crisis such that the point of view of the continent is well stated by Africans.
They also both expressed the hope that such an African narrative which is not antagonistic would soon be accepted because it is not "us versus them," but one that seeks to balance the global perspectives on the issue.
The leaders agreed that the challenges of Climate Change are real and global, requiring prompt and positive actions.
At the meeting with the AEF afterwards, the VP said: "The Climate Positive Growth Agenda is important. For me, the next steps are crucial; first, we need to get African governments and heads of state around this agenda and that is crucial because the Climate Positive Agenda is a win-win situation for Africa and the rest of the world.
"It certainly needs a lot of fleshing out and a lot more in terms of getting African governments in particular to understand our place in it and how to take this forward."
Setting Nigeria as an example, Prof. Osinbajo said: "We may not probably be a country you think of when it comes to a green economy, but the truth is that Nigeria's hydropower is the core of its energy resources, our Energy Transition Plan as well as renewable energy plan both emphasise great ambitions for renewable energy.
"We are a gas-rich country, so the question is how do you make that case for Nigeria in such a way that you are able to emphasise the trade-offs and the actual benefits.
"And I think, it is a straightforward enough case, but we have to present to each government where the benefits lie and where the trade-offs may lie so that we get a consensus as quickly and as effectively as possible."
Prof. Osinbajo noted that Africa can be a solution to the net zero ambition.
"I think it is important to emphasise that it is a win-win because instead of seeing the usual narrative of Africa being the least emitter and the worst sufferer, here is a situation where we are proposing an African agency. And we are saying Africa can be the solution to the net zero ambitions of the entire world.
"And how is that going to happen? It will happen because we have everything that it takes — youth population, and renewable resources in the magnitude that no one else has.
"We have abundant natural resources as well and if Africa does not go the carbon-intensive path to upper-middle-income growth that others have gone, then it means that we make that sacrifice in order to be able to get everyone to their net zero ambitions but at the same time, we are able to assure growth for Africa," he added.
He also advocated for an equitable and fair carbon market where there will be access for everyone as well as capital to drive the process.
"Capital is important because the investments that are required in other to make these things happen will not come from Africa; they are going to come from our partners in the rest of the world.
"So, I think that we have a long way to go, but I am excited that we are gaining consensus every day, and that everyone seems to agree that this is a pathway.
"I am very excited about the prospects and I believe that Nigeria will be a very strong partner in this journey, and I look forward to working with all of our partners in Africa and Europe to make all these happen," the VP stated.