Osinbajo votes, as BVAS malfunctioning left voters stranded in Ogun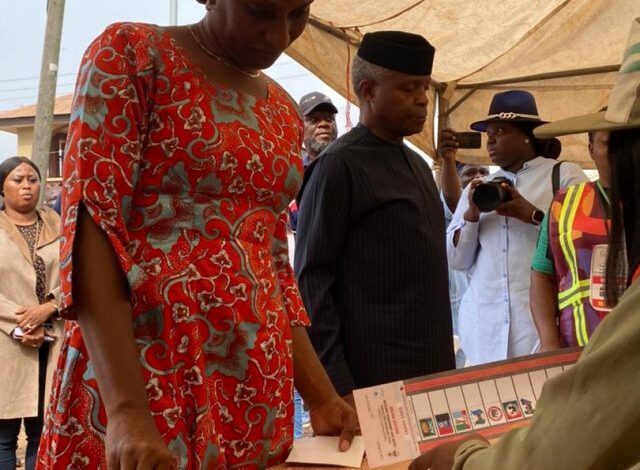 Vice President, Yemi Osibanjo has described the ongoing presidential and national assembly elections as smooth and peaceful.
The Vice president, who voted at Ojurege ward 1, polling unit 14 in Ikenne Local Government Area of Ogun State, commended the Independent National Electoral Commission (INEC) for the smooth process.
He said: "This is my polling booth. The Ojurege polling booth is very peaceful and I hope this is the same all across the state."
But voters at unit 23, ward 1 in Ilaro, Yewa South local government area of the state were left stranded as the Bimodal Voters Accreditation System (BVAS) failed to work.
The voters who had arrived the polling unit as earlier as 7.40am could not cast their votes as the machine failed to capture the voters.
Accreditation of voters was put on hold following the failure of the BVAS.
Polling officers at the unit, struggled with the machine.
One of the officers said she has called her supervisor to report the failure of the BVAS, adding that another machine would be brought to the unit.
Expressing his frustration one of the voters, Agoro Waliu said, "we need to wait because INEC officials have done everything possible to make sure the BVAS work. Unfortunately, we have been here since and nothing has been done.
"To make sure that we exercise our franchise, we need to wait. The INEC officials told us that the machine has refused to capture so we have to wait."
Officers of the Economic and Financial Crime Commission (EFCC), stormed the Ikenne's polling unit of the Vice President and other units.