Our govt committed to addressing transportation challenges- Sanwo-Olu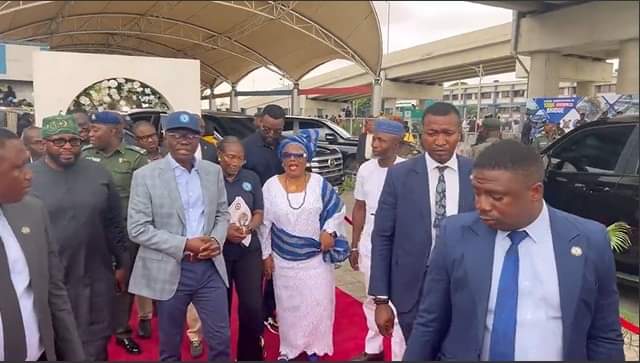 By Adeola Ogunrinde
Lagos State Governor, Babajide Sanwo-Olu, has said his administration remains committed to developing sustainable solutions to the transportation challenges along the major transit spines.
The governor said the sustainable solutions would give relief to the people by reducing congestion, improving travel time, as well as the cost of commuting.
Sanwo-Olu made the remark on Thursday while formally commissioning the Yaba Overpass Bridge for use of the people and for the progress of Lagos State.
The governor said the event marked another leap in the fulfilment of his administration's promise under the Traffic management and Transportation pillar of our T.H.E.M.E.S+ Agenda.
Sanwo-Olu lamented that over the years, Lagos recorded avoidable fatal accidents on railway crossings mostly due to human errors.
He assured that with the overpass bridges in Yaba, Ikeja, Mushin and Oyingbo, there would be no more occurrence of train-vehicular accidents in those locations.
Some of the major transit spines listed by the governor are; Ikorodu Road, Oshodi-Lagos Abeokuta Motor/Expressway to the border between Lagos and Ogun states at Ota, Lekki Epe Expressway, Berger to CMS and Lagos Badagry Expressway.
The governor urged residents of the area to protect the Yaba Over Bridge from vandals and other societal enemies.
Reiterating that the bridge is not a market place, as the steps, ramps, and sidewalks are not for displaying wares, the governor added: "Our law enforcement agencies have been given strict instructions to ensure zero-tolerance for any misuse of this facility."
He also warned those who engage in illegal trading on the railway tracks to desist from doing so.
Meanwhile, the Managing Director/CEO Lagos Metropolitan Area Transport Authority (LAMATA), Abimbola Akinajo, said the Lagos Rail Mass Transit (LRMT) Red Line Yaba Overpass Bridge would drastically reduce congestion in the area.
Akinajo noted that the Yaba Overpass Bridge is one of the five bridges the government agreed with the Federal Ministry of Transport to build to separate vehicular and train traffics so as to eliminate incessant accidents on railway level crossings.
She said Federal Ministry of Transport also agreed to construct five bridges at Jonathan Coker around Fagba off Iju Road, Asade Market, Sogunle, Ilupeju bypass and Fadeyi.
According to Akinajo, the bridges are essential part of the Lagos Rail Mass Transit (LRMT) Red Line rail project to ensure the safety of the people of Lagos.