Oyetola faults conversion of Osun FG SDG skill acquisition centre to football camp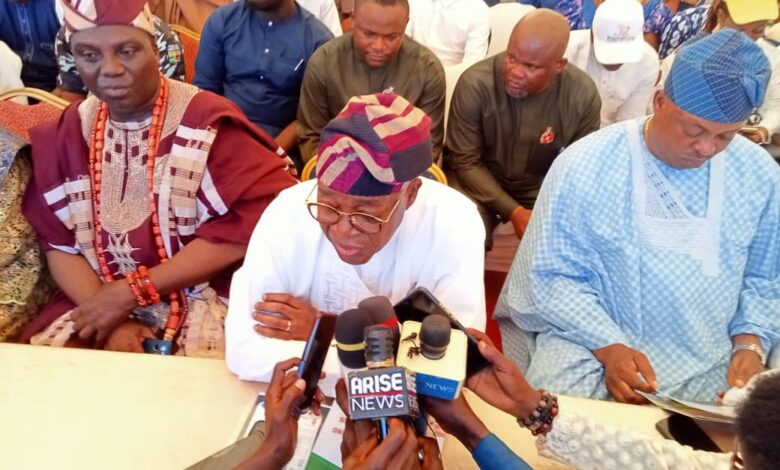 The Minister of Marine and Blue Economy, Gboyega Oyetola, has faulted the decision of the Osun State Governor, Ademola Adeleke, over the conversion of the Sustainable Development Goals Skills Acquisition Centre to a football camp.
Oyetola who expressed dissatisfaction on the action of the governor to convert the Federal Government project said, it was unfortunate that the project meant to allow the youths and women acquire skills has been turned to football camp .
The immediate past governor of the state, who spoke at the 2023 Iragbiji Day celebration on Saturday, said, "What made me sad today is that all the efforts put into ensuring that we have a skill centre for our youths have been turned into something else.
"When I was the governor I facilitated some SDG projects that will assist our youths and women to acquire skills but I am so unhappy that the same project that we fought for to get to this community has now been turned into a base for soccer.
"I have no quarrel with football but you must use this facility for the purpose it is made for.
"The centre is meant for the acquisition of skills for youth. I am going to talk to the government of Osun State today, to please recognise that these projects are put up by Federal Government for the benefit of our youths.
"You can decide to have your football camp elsewhere but not converting the facility that I fought for when I was the governor to base for camping for footballers, it is very bad and unacceptable," Oyetola said.
"I believe that Federal Government will do what is next to ensure that the purpose of creating the center is achieved. I have taken it up and I believe that very soon they will react. The center is for Federal government is just been sited here."
It would be recalled that the centre was facilitated by Oyetola when he was serving as the Governor of the state.
However, the Adeleke led Government converted the hostel of the Sustainable Development Goals Skills Acquisition Centre, in Iragbiji to Osun United football team training camp.
Oyetola, then charged the youth on the need to diligently pursue their education career, saying there is no constrain to what they can in life
He said, "To all the youths please pursue your education career without compromise, put in your best. Please don't play truancy.
"There is no constraint to what you can be in life, there may be no job now but what President Tinubu is doing, jobs will be guaranteed for youths."
Speaking at the occasion, the Aragbiji of Iragbiji, Oba Abdulrasheed Olabomi appreciated the minister and his entourage as well as all the sons and daughters of the sleepy community both home and in the diaspora for their commitment and contribution to the development of the town.