Passengers stranded as aviation unions shut down flight operations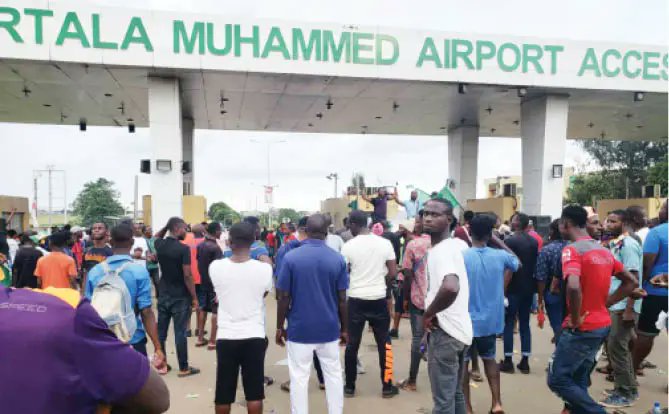 Air travellers were on Monday stranded at the Murtala Mohammed Airport (MMA) terminal as aviation unions began their two-day warning strike.
Members of the union blocked the entrance of the MMA, leaving passengers stranded.
Officials of the various aviation agencies, including owners of businesses and staff within the airport, didn't have access to their offices.
Flight operations were grounded at the airport.
Also, there was heavy traffic around the airport and environs due to the strike.
Passengers were seen trekking and dragging their luggage due to the disruption caused by the strike.
Some passengers lamented the situation noting that they were at the receiving end of the "crossfire"
John Thompson, who was visibly angry, expressed his frustration at the situation.
"Everytime there is an issue and they decide to go on strike, it is the passengers who have absolutely no business in it, that suffers.
"Like the daily problems in the country are not enough, they are adding theirs and I have nothing to do with it," he said.
Another passenger, Tinuke Adeite voiced her frustration at the trend of agencies embarking on strike due to internal disputes.
"What is my business with the issues they have with the authorities and in all of these, I would miss my flight.
"There are better ways to resolve issues than destabilizing the economy of the country by going on strike," she said.
The unions are demanding the immediate release of the reviewed Condition of Service, implementation of the minimum wage consequential adjustments and arrears for the Nigeria Meteorological Agency (NiMet) since 2019
They also demanded the halt of the planned demolition exercise of aviation agency's buildings in Lagos by the Minister of Aviation for an airport city project.
The unions had issued a 14-day ultimatum to the Minister of Aviation and specific aviation parastatals on February 7, over non-implementation of minimum wage consequential adjustments and arrears for NiMet.
Others are the refusal of the Income & Wages Commission and Office of the Head of Service of the Federation to release the reviewed Condition of Service of Nigerian Airspace Management Agency (NAMA), Nigerian Civil Aviation Authority (NCAA), Nigerian College of Aviation Technology (NCAT) and Nigerian Meteorological Agency (NiMET).
NAN