PDP afraid of losing, lying over election postponement – APC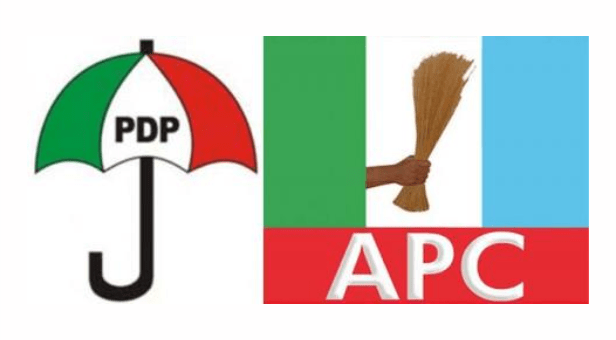 The Presidential Campaign Council of the All Progressives Congress has said that the opposition Peoples Democratic Party (PDP) is lying over claims the Federal Government and the Independent National Electoral Commission (INEC) plan to postpone the general election.
In a statement by its Director of Media and Publicity, Bayo Onanuga, the APC PCC says the PDP has resorted to lying because it is afraid of losing the election.
It urged Nigerians to ignore their claims and continue to prepare for the elections scheduled for February 25 and March 11.
The statement read, "Our attention has been drawn to the jumbled press statement given by the rudderless and very confused Peoples Democratic Party today. We have nothing but pity for a party that has become a mess and total embarrassment to itself and its despondent members.
"For lack of nothing tangible to tell Nigerians six weeks to a general election as its candidate, Alhaji Atiku Abubakar disappeared from the campaign trail, PDP has resorted to making irresponsible statements just to fill media space.
"The latest is the false information that the Federal Government and INEC plan to postpone the general elections.
"Nigerians are advised to ignore this senseless conjecture from PDP as there is no iota of truth in the allegation.
"The electoral umpire has made it abundantly clear of its readiness to conduct the elections and these elections will hold as scheduled in February and March this year.
"President Muhammadu Buhari who has given this country the most credible elections both regular and off season since 2015 has consistently assured Nigerians, even up to two days ago that 2023 elections will hold.
"Similarly the Minister of Information and Culture, Alhaji Lai Mohammed has reiterated President Buhari's position that the Federal Government has no intention to postpone elections.
"Knowing that it has no path to victory and no real agenda for development to sell to Nigerians by its absentee presidential candidate, PDP has nothing profitable again to engage in other than raising false alarms, manufacturing outright lies and disseminating innuendos to deceive the public.
"PDP should know that Nigerians have rejected it and no amount of falsehood can redeem a political party that wrecked our economy, under its watch, created massive insecurity and looted money meant for development.
"If we go by what the party's presidential candidate has been saying, no lesson about the ignoble past has been learnt as he has promised to sell the NNPC Limited assets for just $10 billion, the way he sold prime national assets for peanuts under his care.
"As a party and presidential campaign council, we are focused on the message of renewed hope of our candidate, Asiwaju Bola Ahmed Tinubu and his running mate, Senator Kashim Shettima.
"We shall also continue to tell Nigerians about the achievements of the APC-led Federal Government of President Muhammadu Buhari across sectors especially in areas of the infrastructural development, agricultural revolution and food security, rebuilding of our armed forces with sophisticated hardware and reforms in the oil and gas sector among others."