PDP approved my accepting Tinubu's ministerial appointment – Wike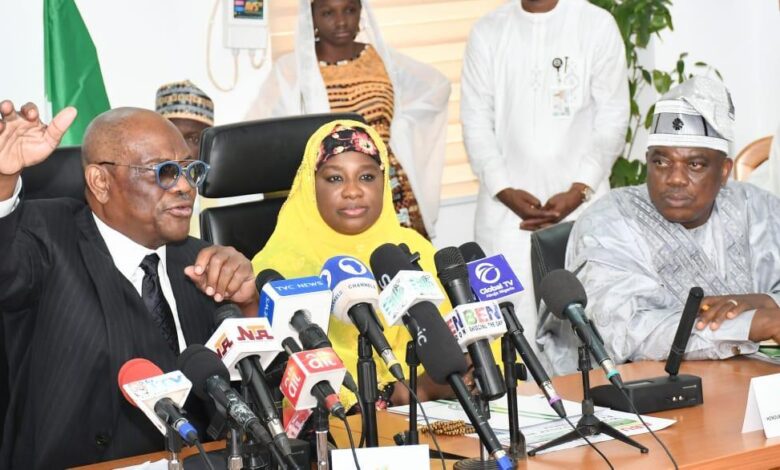 Minister of the Federal Capital Territory, Nyesom Wike, said his party, Peoples Democratic Party (PDP) approved his serving in the cabinet of President Bola Tinubu.
Wike said this while fielding questions from journalists on assumption of office after inauguration on Monday.
Berating those criticising him for taking appointment in the APC-led government, the former Rivers State Governor said the main opposition party was duly informed before he accepted the job.
"Before this appointment came, I wrote to the party's national chairman; I wrote to the minority leaders in the Senate and House of Representatives; I wrote to the zonal chairman of the party; I wrote to my state chairman, my governor and all of them wrote me back and said I should accept it," Wike said.
According to him, all the 36 governors, including those of PDP were written to by President Tinubu to submit names of ministerial nominees adding that each of them submitted ten names.
"Didn't PDP governors send names? Every PDP governor wrote a letter and nominated ten persons. So, forget these reggae dancers; when you have lost an opportunity, you have lost it."
Responding to questions on which party's flag he is likely to fly as a minister, Wike said FCT residents should be more worried about burning issues needing urgent intervention and not the party flag he will be flying.
The only member of an opposition party in President Tinubu's cabinet said he was in the FCT to deliver the dividend of democracy and return the territory to its glory days.
"Why should anyone be bothered about what party flag I will be flying? Ok, bring the PDP flag, I will fly it, bring the Labour Party flag, I will fly it. The FCT is in this state and you think the people are bothered about the party flag I fly? I will fly the Nigerian flag and ensure the FCT returns to the dreams of the founding fathers", Wike said.