Pele: The holy grail of world football, By Odi Ikpeazu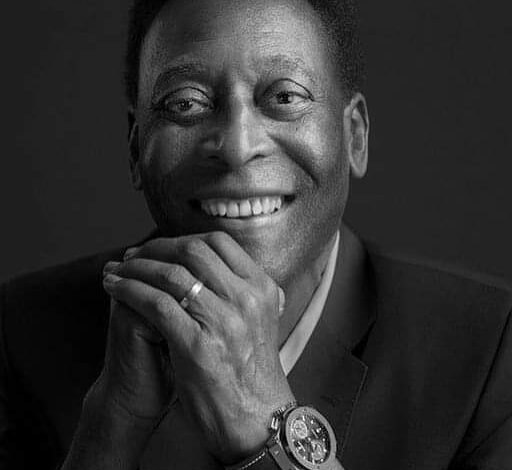 "When beggars die, there are no comets seen,
the Heavens themselves blaze forth the death of Princes."

Cassius in Julius CaesarShakespeare
The day I have been dreading for weeks, is finally upon me! Today that King Pelė is no more. A horrible hour. Incredible! Unreal! Surreal! It is one o'clock in the morning and I am weary of crying but if tears would bring you back, my King, I would readily cry for a year.
Edson Arantes do Nascimento, is a name I etched in my memory as soon as I became a fully conscious human being, a monument that dominated the landscape of my mind, a name greater than any I can think of. A god sent from the firmaments to mingle among men, an avatar charged with the function to show the quintessence of the beautiful game of football to mortals and bring happiness to the hearts of billions from generation to generation.
King Pelė, you have been a part of my life very much as if you are my family. For after all, what is family but those that live in your heart? And despite being from Brazil and I from Nigeria, I can assure everyone it may concern that blood alone does not define family. I know they say blood is thicker than water but on the other hand, love is thicker than blood. And I love you, King Pelė! I love you more than tongue can tell, more than anyone but I, can possibly imagine.
I have followed every single frame of your life's scenes, a life larger than life itself, a life greater than any block buster movie, more dramatic than any box office hit. I have tracked you from when you were that shy, fresh-faced 17-year old kid from Bauru, whose self-effacement belied an incredible, redoubtable, gladiator, who was to go on and bestride the football world like a Colossus while petty men walk under his huge legs and peep about to find themselves dishonorable graves.
With the guile of a fox, the supreme speed of a cheetah, and the raw power of a tiger, you awakened the world to the wonders of the beautiful game more than any player before you or since.
I have watched the greatest players of football over and over again, first through my father's old 35mm black and white film reals, and then in flesh and blood, right down to these frenzied days of the new-fangled social media, where everybody speaks at the same time. I watched Joaõ Leandro Andrade weave his magic for Uruguay at the 1924 Olympics. I jumped in awe at some of the early, spectacular bicycle kicks executed by Leonidas for Brazilat at the 1938 World Cup. I witnessed the aristocratic craft of Di Stefano, the magnificence of Puskas' left foot, the professorial prowess of Didi, the impossibility of Garrincha, the nature's force of Eusebio, the genius of George Best, the supremeness of Johann Cruyff, the virtuosity of Diego Maradona, the phenomenon of Ronaldo Nazario, the athleticism of Cristiano Ronaldo, the wizardry of Lionel Messi, right down to the unravelling talents of the likes of Mbappe and Haaland. I have watched many more, too numerous to mention. But King Pelé, you are the condensation of all these great players, the distillation of all their abilities and I will not speak your name in vain by descending into social media to partake in the popular blasphemous pastime of comparing you with those who can only wish they were you.
I remember that day at the Eko Hotel when I met you for the first time. You were at the reception waiting to telephone your wife back in Brazil. You wanted to assure her you were safe, as there had just been a coup d'état in Nigeria. I shook your firm hand in awe and listened to your deep, syrupy voice as I engaged you in a conversation I prayed would impress you. I daresay you did say you were impressed in the end too, with my knowledge of the great Santos team of the 60s, of which you were the brain, heart and soul.
You patiently listened to me with that shy smile of yours, determined to indulge me as I reeled off to you the names of your team mates at the Vila Belmiro: Gilmar, Coutinho, Pepe, Lima, Edu and the rest. I will never forget it when you arched your eye brow at me, surely in exaggerated amazement and told me in your Portuguese-laden English: "You know so much of Santos!"
That evening is probably the fondest memory of my entire life and now that you have gone back to the extraterrestrial realm from where you were sent, I realise that it is a day I will cherish more than if I possessed the Koh-i-Noor diamond.
-Ikpeazu is a lawyer, Pan-Africanist and football lover