Peter Obi stopped Labour Party from campaigning in Anambra as governor – Soludo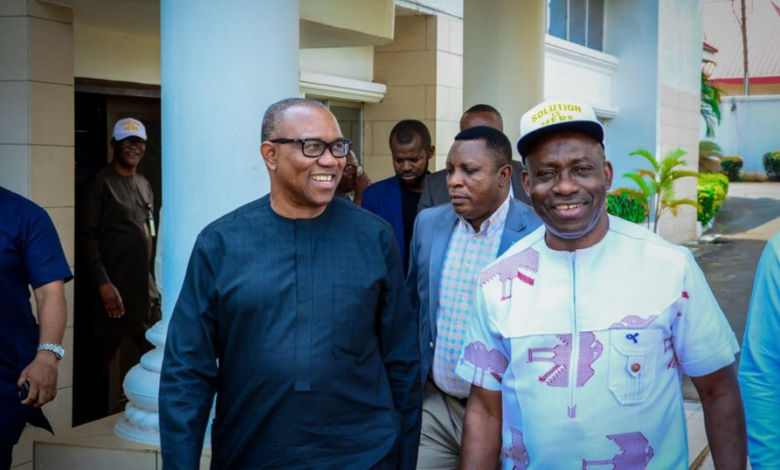 Anambra State Governor, Charles Soludo says he has been tolerant of Labour Party in the state unlike when the party's presidential candidate, Peter Obi was governor.
Soludo was responding to allegations that the state government pulled down some LP billboards in the state.
According to him, the billboards were pulled down because they failed to pay relevant fees to the signage agency.
He, however, said while he has continued to accord the LP spaces to campaign, while Obi was governor, he denied them usage of a space for campaign even after it had been paid for.
"It does not worth my time to comment on the rantings of some people — about their billboards or no billboards and so on," he said.
"I don't want to be drawn into that. I think that has been exhaustively dealt with by the government and the Anambra State Signage Agency that regulates this.
"The point that was repeated is that the signage agency had commended me for being the most tolerant governor as it regards free and fair electoral practice.
"It is on record and everybody knows that I have twice granted the presidential candidate of the Labour Party to use government properties — Government House — for his campaign without charging him a penny.
"Nobody has done that. He did not do that when he was in government. He did not even allow Labour Party, where he is now, to freely campaign in Anambra. He denied them even the venue that they paid for.
"But I have allowed him to use the Government House twice free of charge. They were in Onitsha to go and campaign. They have their billboards all over the place but the point is when you failed to play by the rule, you put up billboards and you don't pay for the relevant things. Of course, the signage agency will come after you.
"Even yesterday, I heard a complaint they pulled down even the billboard of an APGA candidate for a federal house. He has not paid and they pulled it down. This is the state's rule of law.
"Even when they said their billboards were pulled down, you go all over the state, the billboards are lining up everywhere, where they have met the terms and conditions for that.
"They want some kind of entitlement. We can't continue to give them everything for free. PDP, APC, and others are not complaining. Why only them?"