Pilot seen slumped over in plane that triggered fighter jet chase over Washington DC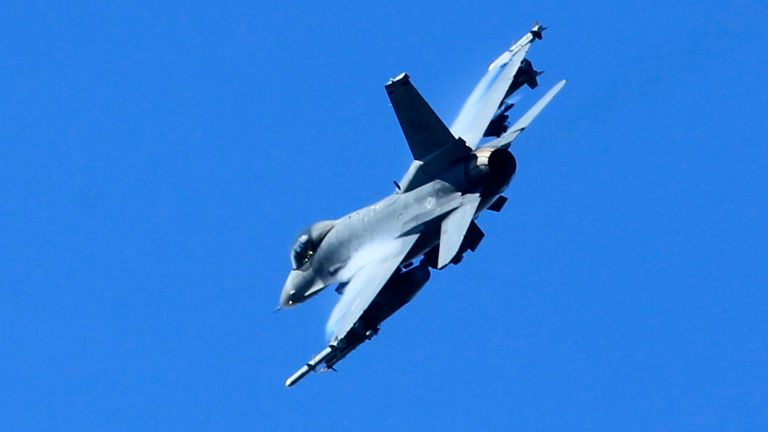 A pilot was seen slumped over in the cockpit of a wayward plane that crashed after flying over Washington DC – as fighter jets were scrambled to intercept the aircraft.
There were no survivors found at the wreckage of the aircraft, which is said to have been carrying four people.
The plane had set off from Elizabethton in Tennessee on Sunday, before inexplicably turning around while making its way over New York's Long Island.
It had been heading for the island's MacArthur Airport, but instead found itself over DC – including some of the most heavily restricted airspace in the country – before crashing into mountainous terrain near Montebello, Virginia.
Fighter jets from Joint Base Andrews in Maryland were deployed to investigate when the pilot was seen slumped over, an official said.
Air traffic controllers radioed the plane, named Cessna Citation, 15 minutes after it took off at 1.13pm local time, asking it to stop its climb at 33,000ft, a senior government official said.
It turned around near New York City and is believed to have run out of fuel when it crashed just after 3.30pm local time.
It is currently unknown why the pilot was silent and did not respond to air controllers – or what might have caused them to be incapacitated.
Fighter jets not responsible for the crash
Fighter jets deployed to intercept the plane as it travelled across DC were not the cause of the crash.
They were, however, responsible for a loud, house-shaking boom over the US capital after being cleared to travel at supersonic speeds.
The National Transportation Safety Board (NTSB) launched an investigation on Monday to "begin the process of documenting the scene and examining the aircraft", it said in a statement.
However, it could be days before officials can gather evidence from the "highly fragmented debris field".
NTSB investigator Adam Gerhardt said: "Everything is on the table until we slowly and methodically remove different components and elements that will be relevant for this safety investigation."
A statement from North American Aerospace Defense Command said the F-16s used flares to try to get the wayward plane's attention, but failed to do so.
A source familiar with the matter told Reuters that the Cessna was believed to be on autopilot.
Flight tracking websites showed it suffered a spiralling descent at more than 30,000ft per minute, before crashing down into the St Mary's Wilderness at around 3.30pm local time on Sunday.
The New York Times reports that it was registered to Encore Motors of Melbourne Inc, which is based in Florida.
In the aftermath of the sonic boom, locals headed to social media to find out what had happened.
Cole Rojewski, a Washington DC lobbyist, tweeted: "Huge boom or explosion in Washington DC a couple of minutes ago. Seems people from Northern Virginia to Maryland heard it. Shook homes here on Capitol Hill. Does anyone know what it was?"
Others suggested that the city might have been struck by an earthquake, while some reportedly called 911.
The Department of Homeland Security tweeted soon after the sound: "We are aware of reports from communities throughout the National Capital Region of a loud 'boom' this afternoon. There is no threat at this time."
Eventually, the Office of Emergency Management of the city of Annapolis, 30 miles to the east of the capital, said the sound was the result of a military exercise.
The White House said President Biden had been briefed on the incident.