Politics is for the humble, the rugged and the faithful, By Tope Fasua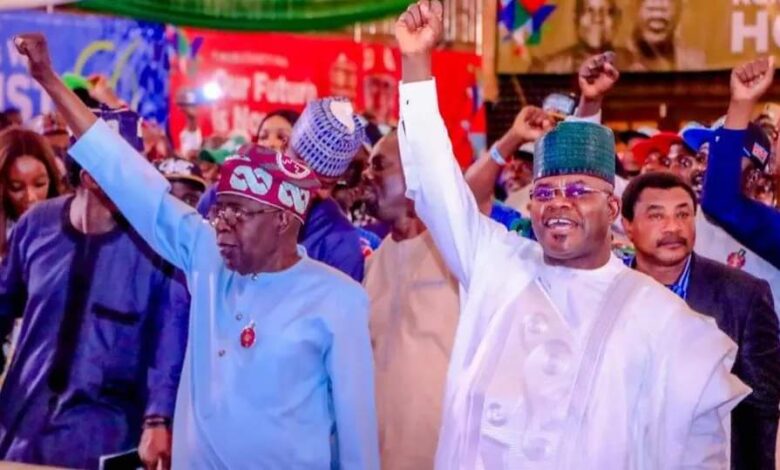 So, a few weeks back my darling wife informed me that her colleague at UNIBEN, an ex-GTBank exec who now works in Kogi State Govt will call me about an APC event. The Youth campaign of APC had an event and they will like me to speak. I had no hesitation. I believe in the project, no matter what anyone says. So, he called and we agreed that I will be there to speak. That date did not hold. Politics is not business. Anything can change at any time. Whoever chooses not to understand cannot be a leader. And politics is about leadership.
Then three days ago the man called me that they had another arrangement. There will be a Youth Summit and Asiwaju is likely to come, he said. Will I be willing to make a presentation for 15 minutes? Again, i was like 'why not'? The only challenge i have these days is my work mobility. But if something jives with my schedule, i try to stretch myself as much as possible. Not only on politics though. I show up for a lot of people on personal basis. That is why they overuse poor me for free in radio and tv stations, and seminars and now, i write for like 6 newspapers and magazines, most of them weekly. Daily Trust, Premium Times, Alvin Reporters, National Economy, Inside Watch Africa, Diversity Media, etc. I also now have my own TV show. I like it. If God spares me to old age, i already have what will occupy my time.
Ok, back to the story. Since it was going to be a presentation, i had to knock out 28 slides on PowerPoint in case i had the floor. Time was 3pm at Chida Hotel Hall. I targeted to be there on time. Somehow i didn't anticipate it was the normal campaign crowd. I still remember Warri. You cannot control anybody. Only the rugged survives. Politics is not about neat environments and reasonable, well-dressed people. If you see real Nigerians in their element and essence, you go fear. The fierce faces eh! Anyway, as i drove near the venue just before 3pm, i saw a convoy of about 4 cars – including a Maybach. I just knew that was Asiwaju's convoy. Chai! This man was on time! If he gets in before me i may be cooked. I looked upfront and the road had totally blocked. There were like a thousand people trying to get in the premises. I had to triple park on the road and try to get in, all the while clutching my phone and little belongings. After about 15 minutes of shoving, i gave up and tried the backyard entrance. Surprisingly, that was easier. And probably because of my white beards, the stern security men and bouncers let me through. This was actually the VIP entrance. I usually don't figure myself as a VIP though, and i am not in this to throw my weight around. But it sometimes makes sense to follow the VIPs when the masses angle is too rugged. Getting in the hall was another problem. Twice. After much shoving and letting them know i was a panelist, i managed to squeeze in and found my way to the third row on the left. Don't expect anyone to have time for you or treat you like anything special. I just sat on a seat that had been reserved for someone else. When he shows, we go dey drag am. He never showed up as no one disturbed me.
The crowd in the hall was uncontrollable no matter how much the MC tried. The lady MC (I think they called her Expensive), was a great mobilizer of Nigerian Youths. Greatestttt Nigerian Youth!! Of the greatest, and the greatest and the greatestttt Nigerian Youth!!!! seemed to calm them down for maybe 5 minutes before another surge resumed. Politics is for people who don't mind being in a crowd of people. It is not a business for puritans and anti-socials.
Asiwaju and GYB came in from a different entrance apart from the one reserved for them. The hall went wild. The security men tried hard to ringfence them but the crowd overwhelmed everyone. I think that a couple of times yesterday, Nigerians would have tried to knock down the incoming (insha Allahu) president. Even where he sat later, despite the security presence, there were several breaches. Where i sat close to the front, people standing to take pictures and videos blocked our views so we all had to stand to see proceedings upfront.
Asiwaju gave his best speech so far. Gaffe-hunters knew that their market don spoil. Weaving between serious policy thoughts and banters at Obasanjo and Atiku, Bola Ahmed thoroughly enjoyed himself yesterday. It was hilarious as he mentioned how Atiku and Obj fight spilled to Wuse Market (figuratively) between 2003-2007. He promised that he and his Vice will never have such quarrels.
Of course being the political rally that it turned out to be, it looked like they didn't have time for our turenchi session anymore, but with the efforts of another Radio personality, Kemkem, we the panelists were called up to the raised platform to take our seats. It was already past 6pm. I wondered what we could say by then. Asiwaju had already taken the thunder that was his to take, with his speech. So, all they could do was introduce us and the areas we wanted to speak about. Kemkem was very generous with my intro. We also had Haruspice, Zainab Buba Marwa, and other great people on the panel. When i saw that the panel may not hold, i quickly suggested to the MCs that we take pictures with Asiwaju before he departed. That turned out to be a saving suggestion.
Asiwaju is like one of those billionaires i know who never forget faces. As i approached him for a handshake, he kept calling my name like we were pals. This is just the third time i'll be meeting him one-on-one. His son, Seyi was his ADC.
Looking at the event from the perspective of an Asiwaju, it is apt to say that politics is not for the fearful but the faithful. From his speech yesterday, i am certain that that man will make great positive changes in Nigeria and not throw the people under the capitalist bus. I pray the Almighty continues to spare him and make him stronger. Shame on traducers who think he is weak or frail. Or those chasing gaffes. Tiyinloju. The man harbors no grudge against anyone. He is a thoroughbred politician who has read vastly about how politics works in a presidential system and has been following his template for decades. He is a bold man on faith, who is not afraid that there are so many hateful people around who are so crazed that they may want to hurt him. He trudges on, and presses on, his eyes on the prize. He is not an irritable man, who sees the people like dirty vermin and does not want to interact with them. No be today. Bourdillon, his abode, is a permanent congregation of human beings. That is why he has the edge. His intervention in the lives of people, is a constant affair. He truly loves humanity. I believe that he has a mission to fulfill for Nigeria and the black race. That may be an unspoken mission. Like Zik before him, many who study in the USA and return usually have a deep, burning desire to reposition the black man. Those who study in the UK are less impassioned because racism in UK is far more subtle.
Politics is not for the keyboard warriors who only know how to pull down. Politics is a game of love, not hate. Because love ends up pulling more people to you, than constant bile being hauled at others. Asiwaju is the superstar of the moment. Millions of Nigerians will lay down all they've got for him, demanding nothing. The man has bulldozed all the fears and misgivings of millions in the beginning. In this era, he has emerged as the clear forerunner. Hold the elections today, and he will win, landslide. It takes humility, faith, fearlessness, and ruggedness.
It was also great to meet many guys yesterday. I'm glad to be part of a progressive team. May God spare our lives to be able to do the work to make our nation, our race, better and even more progressive.