President Buhari reflects on his leadership journey during final Sallah Day outing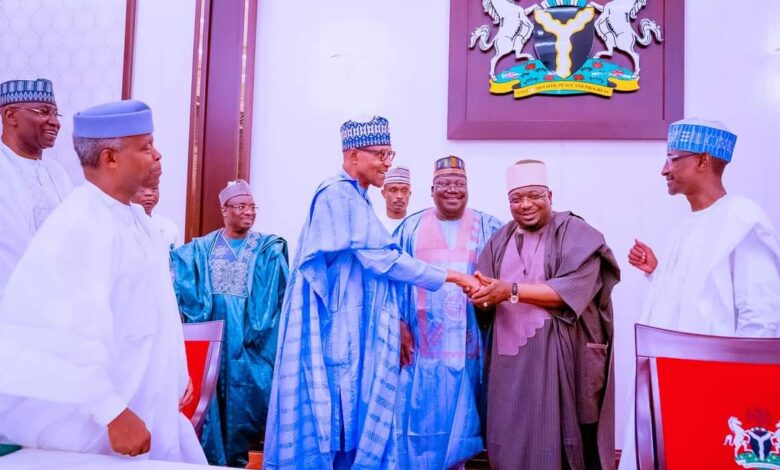 President Muhammadu Buhari reflects on his forty years of leadership roles in Nigeria during a recent occasion to mark his final outing as President on a Sallah Day, before handing over to his successor.
Addressing residents of the Federal Capital Territory led by the Minister, Muhammad Musa Bello, on Eid-el-Fitr Sallah homage, President Buhari recounted his time serving as a military officer, military governor, minister, Head of State, and returning as a democratically elected President in 2015.
However, his journey to leadership was not always smooth. He was incarcerated for three years after the coup that ousted him from power in August 1984, and contested elections three times in 2003, 2007, and 2011 without success.
The President also spoke about the strength of democracy as a system of government, particularly in providing opportunities for citizens to participate and fostering a sense of belonging among them. He highlighted that democracy allowed someone from one end of the country to rule for eight years, citing his own presidency as an example.
President Buhari also addressed the issue of security, stating that it was not only about the North East but also spread to the FCT and all over the country. He acknowledged that those who wanted to make the lives of Nigerians uncomfortable reached the FCT and marginalized the people.
Additionally, President Buhari spoke about the concept of ethnic and religious cards in elections, labeling it as "rubbish" as the presiding justices at the Supreme Court that squashed his cases were Muslims, from the North, Zaria in Kaduna State, Niger, and Jigawa.
The President expressed his gratitude to Nigerians who voted for him in 2015 and 2019 without any monetary incentive, and for tolerating him for almost eight years.
In attendance at the Sallah homage were the Vice President, Yemi Osinbajo, Senate President, Ahmad Lawan, SGF, Boss Mustapha, Chief of Staff, Prof. Ibrahim Gambari, Senator Philip Aduda, and CAN Chairman in FCT, Rev. Timothy Amakum.
As his term comes to an end, President Buhari plans to retire to his hometown, Daura, for some respite after years of work, stating that "I got what I wanted and will quietly retire to my hometown."