Prof. Afolabi Olabimtan: 20 years after, By Dapo Oke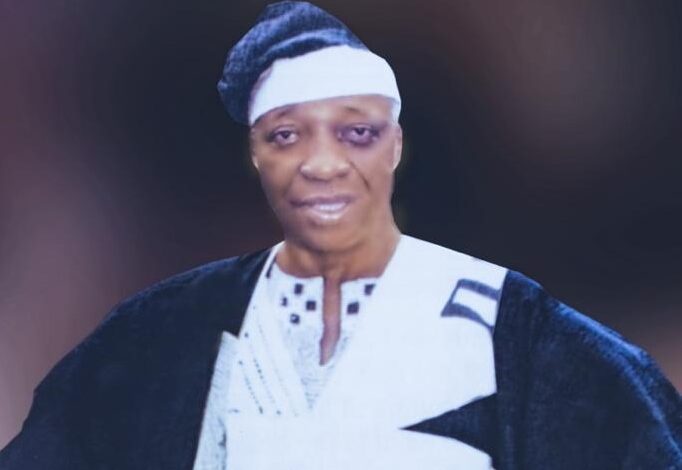 Indeed, 27th of August, 2003 was like every other day in the ancient city of Ilaro, in the Yewa South Local government area of Ogun State. People went about their daily cores, but for Professor Afolabi Olabimtan, there was a need to attend an important meeting in Imeko, which turned out to be his last major activity and appearance on this side of the world.
Towards the evening of that day, the news of his demise filtered in with great shock and disbelief. People were seen in groups discussing the unfortunate incident of a ghastly motor accident that took place along Lagos/Abeokuta road. It, however, became dawn on all of us that the great teacher, political icon, and Nationalist, Afolabi Atanda, son of Ojelabi, the poet from the popular Ekerin Compound, Ilaro had gone to a place the Yoruba people refers to as Iwaleasa; the great world beyond. Afolabi Olabimtan, the famous University Don and astute political icon, a distinguished leader of Afenifere and a renowned Awoist had painfully embarked on a journey to meet his creator at the age of 71 when his political and community mentoring roles were essentially needed for further development of Yewaland and the Nigeria at large.
You were interred like a hero in that beautiful casket that was lowered into your grave to commit your body from the mother earth to dust. Your burial ceremony was officiated by a long list of bishops, clerics, and witnessed by who is who in the Nigerian political and academic arena. Your exit was indeed glorious and heroic. It was a day never to be forgotten in the history of our ancient city of Ilaro. No other person had been so celebrated in death in the community to say the obvious.
You are indeed a man of many parts when you lived here on earth. We knew you to be a prolific writer, a poet, a literary icon, a renowned political juggernaut, a robust community leader with great impacts on his people, and of course, one of the Pioneer Commissioners in our great state, Ogun and former Senator of the Federal Republic in the 4th Senate.
Indeed, it is a fact that you led with so much integrity, and in all the places you have served, there are still testimonies of exemplary leadership with unprecedented mentoring roles. Our dear Papa, long after you left, I had the privilege to know your principal roles in our cathedral projects and programmes and I can bear testimony to the fact that the vacuum is still there till tomorrow. That's just one out of many I can mention.
I remember at the first Oronna Day Celebration in 1992, I was invited by you to participate in a symposium, "The role of Youth in an emerging Society – A case Study of Ilaro." I was then in my final year in the University and the President of Egbado Students Association, Obafemi Awolowo University, Ile-Ife. I rose to eloquently condemn the older generations for their inactivity, cold passivity, and divisive roles towards building a strong and dynamic Ilaro Community and Yewaland. My speech was well applauded by the audience at our historic Oronna Hall.
After the lecture, you took your turn to present the closing remarks as the the Chairman, Oronna Day planning Committee. You applauded me for a beautiful presentation. You agreed with my position that though the older generation had their shortcomings; you maintained that they have not totally failed in their responsibilities to provide right leadership. You then asked what agenda does the younger generation have to salvage the situation if we are not satisfied with the contributions of the older generation.
In fact, you challenged us on that very day to rise up and take responsibility for leadership. You told those attentive audience that you would be willing to have me back on the podium at the 20th celebration of Oronna Day to give accounts of stewardship of how the new generation would have fared in changing the narratives. That 20th anniversary of the Ilaro Oronna festival took place in 2015, twelve years after you left the stage, hence, there was no opportunity for me to present another paper on the agenda set by you .
Today, I have come to tell the world after you have left that we have significantly built on the modest achievements you left behind. You were truly a trail blazer, role model, well cultured, well focused and visionary, you set the agenda for the yearly celebration of the town festival, which has today become one of the major national cultural festivals in Nigeria.
Soon, after you left, a very young and dynamic Monarch from our generation came to the throne of Olu to direct the affairs of the town and set agenda for the entire Yewa Community, His Royal Majesty, Oba Dr. Gbadewole Kehinde Olugbenle, the Asade Agunloye 4th, represents the hope you shared with us at the 1st celebration of Oronna day in 1992.
His coming on board as the 14th Olu of Ilaro and the Paramount Ruler of Yewaland has broadened the horizon of development in the entire Yewaland. It was you who first told us that we have a role to play in the leadership of our community. You did not only say this, you demonstrated it through your mentoring roles in some of us. Your house at Leslie road was our usual meeting point where you dished out those illuminating ideas culminating in our growth and further development in community services and in our career progression.
Along your lines of developmental agenda, the youth are now more involved in the political agenda of the West. I know you will be glad to know that your son, Olaolu, is among the new generation of leaders in our state. He has stepped into the big oversized shoes you left behind and leaping high with it.
Eng. (Mrs) Noimot Salako-Oyedele, the beautiful daughter of your bosom friend, Prof. Salako is worth calling a distinguished Amazon in the political leadership of our state, the young and vibrant Solomon Olamilekan Adeola, the current Senator of our district is a major blessing in our renewed hope for political relevance in Ogun State, Gboyega Nasir Isiaka, Biodun Akinlade, Tunji Akinosi, Kunle Salako, Jagunmolu Jamiu Akade Omoniyi, Barrister Biyi Otegbeye, Femi Dokunmu, Biodun Oluseye, Funke Akinkurolere, Lateefat Ajayi and retinues of other professionals are making us proud in their various contributions towards the greatness of our Senatorial district, the Senatorial district you once represented as a Distinguished Senator. It suffices to say, therefore, that "Ina yin ku, ofi eeru boju, ogede yin ku ofi opolopo omorere ropo".
Our gentle and loving Papa, your contributions through your literary writings and political activities to the building of modern-day Nigeria are remarkable and laudable. They would forever remain indelible in our memories
As we remember you today, twenty years after you have left this sinful world, we reaffirm that we love you so much as we bid you goodbye to Ilaro, your homeland, and the place of your birth. We bid you goodbye to Yewaland, whose interest you have fought hard to protect. We bid you farewell to Ogun State, your noble State, which you have served for optimum development. We bid you farewell to the Ivory Tower, which you nurtured so well through your brilliant writings and research. We bid you farewell to the political family of the Late Sage Obafemi Awolowo where you were a titan. We bid you farewell to the Federal Republic of Nigeria, where you were an icon of peace, good leadership, and transparent political values.
Continue to Rest in Peace in the bosom of the Lord Jesus who had made you perfect with His Resurrection on the Cross.
Adieu Professor Emmanuel Afolabi Atanda Olabimtan, the husband of Olubunmi Ejide.
Oke, wrote in from Ilaro, Yewa South Local Government Area of Ogun State, Nigeria