Protest at Osun staff audit, barometer for Adeleke's incompetence, says APC chairman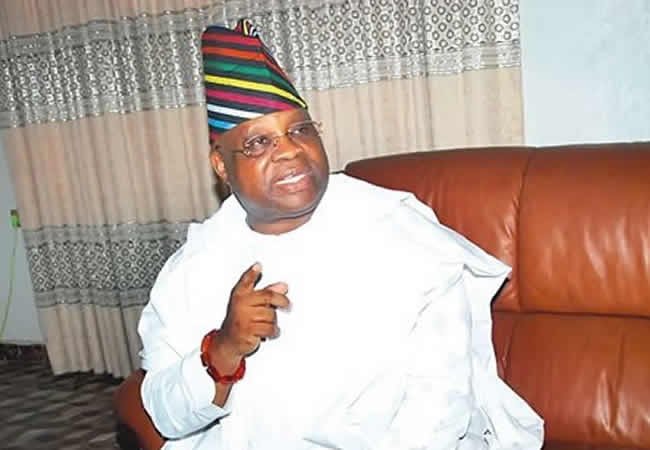 By Deborah Oladejo, Osogbo
The Osun State chapter of the All Progressives Congress (APC) on Friday, said the protest by the state's work force at the ongoing staff audit was an indication that the Ademola Adeleke-led government has recorded another failure in his about seven month-old administration.
State Chairman of the party, Sooko Tajudeen Lawal, in a statement by the Director of Media and Information, Chief Kola Olabisi, in Osogbo, wondered why it was difficult for the governor to conduct staff audit exercise.
According to Lawal, the ongoing staff audit exercise was bungled because the man at the apex of the government is bereft of the natural endowments required to excel in office as governor.
He stated that it was the highest level of insolence, incivility and impertinence for Adeleke to have brought into the state an imperious, haughty and  pompous operator of a consulting firm, who thinks she could hide under the guise of being the relation of one of the governor's wives and be heaping insults on top level civil servants in the state. 
He said: "If not that it is the tail that is literarily wagging the dog in the current bizarre political arrangement in the state, it would not be out of place to inquire  from 'Madam Consultant' what moral or educational justification she has to be bringing the civil servants in the state, irrespective of status, to disrepute and odium.
"Successive events at the corridor of power in Osun State from November 27, 2022 to date are pointers to the fact that Governor Adeleke has nothing to offer the state but he is only interested in the glamour of the office of the governor at the expense of the improved fortune of the state.
"A gentleman's bond is his word. Has Governor Adeleke forgotten that he promised to pay all the accumulated pensions, gratuities and salaries of pensioners and active workers within six months of his administration during the governorship campaign?
"Is Governor Adeleke operating a completely different calendar for him not to know that he has spent over six months in the office without fulfilling his pledge to the pensioners and the active government workers?
"It will now occur to the active government workers and the pensioners that they have fallen victims of a political swindler who only deceived them in order to fraudulently harvest their votes.
"There is no need for Governor Adeleke to be evading the state pensioners who had made  fruitless  efforts to see him at his Ede country home which now doubles as the Osun Government House.
"It is worthwhile to make a remark that with the fail and promise attitude of Governor Adeleke to the request of the active government workers and the pensioners, the immediate-past Governor Gboyega Oyetola has been vindicated as it's on record that the former governor would never promise what he wouldn't be able to provide or achieve.