Release funds for overseas treatment of Boy with missing intestine- Lagos Assembly charges Sanwo-Olu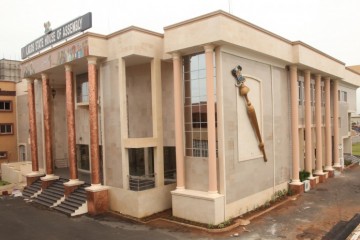 ….commiserates with Mohbad's family, fans
Members of the Lagos State House of Assembly on Tuesday called on Governor Babajide Sanwo-Olu to release funds for the overseas treatment of Adebola Akin-Bright, whose intestines got missing in the process of surgery.
The House also commisserated with the family, friends and fans of Ilerioluwa Oladimeji Aloba, known as Mohbad.
Mohbad was a young Nigerian Aftobeat musician, whose mysterious death has caused reactions across Nigeria and other countries.
The Speaker of the House, Rt. Hon. Mudashiru Obasa, who presided over plenary session, moved that Master Akin-Bright needed the urgent treatment abroad.
The lawmakers also called for the immediate arrest of the doctor of the private hospital, Obitoks Medical Centre in the Alimosho area of the state, who performed the initial surgery that led to the missing small intestine.
The lawmakers' position followed a preliminary report by the Majority Leader, Hon. Noheem Adams, who briefed the House on the findings of a five-man ad-hoc committee set up to investigate the circumstances that led to the disappearance of the boy's intestine.
Giving the preliminary report, Hon. Adams said members of the ad-hoc committee visited the boy at the Lagos State University Teaching Hospital (LASUTH) on Tuesday.
Adams, who chairs the committee, said that the full report would soon be presented, adding that some shocking discoveries were made in the course of its investigations.
"We made some shocking discoveries in the course of our investigation. The incident is very unusual, but we want the boy to survive and we know Mr. Speaker is very interested in his survival too.
"We went to LASUTH on the directives of the Speaker, Rt. Hon Mudashiru Obasa, to find out the health status of Adebola Akin-Bright.
"The hospital told us that Governor Babajide Sanwo-Olu had taken care of the bill for his treatment at LASUTH.
Adams, however, said they were told by the hospital that Akin-Bright needed to be transferred urgently to either the United States of America or United Kingdom for an intestine transplant and that communications were ongoing with hospitals in the two countries.
In his contribution, Hon. Temitope Adewale (Ifako/Ijaiye1) , another member of the committee, said the patient's health was deteriorating and that urgent steps needed to be taken.
"He is now given GMO nutrient and there is the urgent need to take him abroad.
"Mr. Speaker, you have given this boy the opportunity to survive by setting up the committee," he said.
Meanwhile, the House has thrown its weight behind the investigation by the police into Mohbad's death.
The Speaker, while commending the Governor for also inviting the Department of State Services (DSS) into the issue, directed the Clerk of the House, Barrister Olalekan Onafeko, to write the Lagos Police Command and the DSS intimating them that the House supports the investigation and expect justice for the bereaved family.
Obasa also urged fans of Mohbad to be patient and continue to act with decorum while the investigation continues.