Renewed Hope Initiative, NITDA graduate women in ICT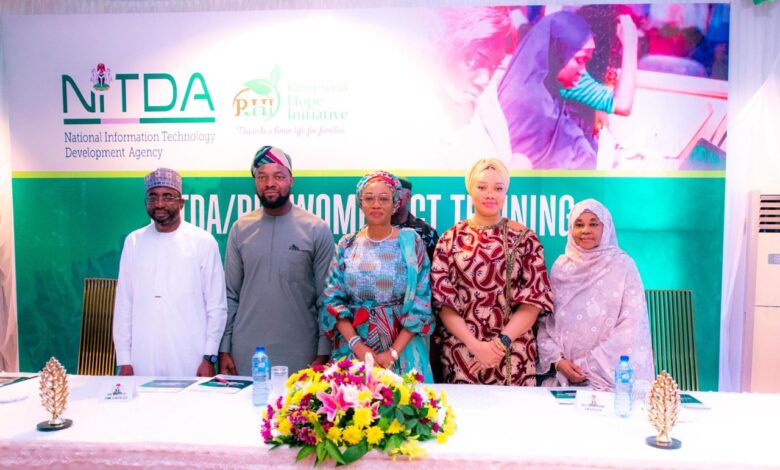 In keeping with its mandate of empowering Nigerian women with enabling skills, the Renewed Hope Initiative of the First Lady Oluremi Tinubu has graduated the first set of beneficiaries of its Women ICT Training and Empowerment Programme.
The training had no fewer than 35 women drawn from across the FCT.
The first lady in her address, congratulated the participants and applauded the Director General and his team of facilitators for the success of the training.
She emphasized the importance of digital literacy and its role in fostering economic independence, noting that these skills are indispensable tools for driving growth and innovation.
She said, "The importance of digital literacy and its role in fostering economic independence cannot be overemphasized. In a world driven by technology, these skills empower women to take control of their lives, contribute to their communities and seize opportunities.
"As we celebrate the successful conclusion of this programme, I extend my congratulations to all participants. You have exhibited resilience, determination and a hunger for knowledge that will undoubtedly set you on a path of success."
The Director General (DG) NITDA, Kashifu Abdullahi, appreciated the first lady for the opportunity given to work with the RHI.
"Thank you for protecting all the vulnerable Nigerians, we are blessed to have you as the First Lady and mother of our nation. The participants, your daughters, are graduating today taking home five major things.
"They are all equipped with digital literacy and ICT proficiency. They are going home empowered to safely and responsibly use digital platforms, they also master digital marketing on how to be able to use social media to sell your products and services. You are also enlightened on how to be part of gig economy, you learnt skills on how to work remotely and earn money, you also learnt how to use productivity tools, and lastly they were empowered on how to network. They are going back home with a laptop and N100, 000.00.
"The First Lady has agreed with us to work and collaborate with Renewed Hope Initiative to craft a national digital gender inclusion strategy in order to bring you at parity with the men to benefit from digital economy."
The Minister of Communications, Innovation and Digital Economy, Dr Bosun Tijani, also promised to work with the Initiative in ensuring that the training is extended to millions of women across the country.
He said the programme was in line with President Bola Tinubu's Renewed Hope Agenda for women inclusion and empowerment among others.
He said, "I want to extend my appreciation to the visionary of this initiative, our First Lady. Your unwavering commitment to empowerment and progress has charted the course for change for all the members of this cohort.
"This is a programme that we hope we can partner with you to actually scale significantly. I'm a big believer in the fact that we have to empower women because there is something that works really well for me, women are empathetic and when you have women around you, it is about the good for people not egos, this is why it is important the role you are playing in the society.
"I must also acknowledge the DG of NITDA and his team for their role in bringing this programme to fruition."
On behalf of other participants, Miss Nkiru Ogbuli, a graphic designer expressed gratitude to the First Lady for keeping her promise of empowering women and explained that the program has expanded her knowledge and provided her with opportunities she wouldn't have known existed.
Another beneficiary, Promise Ogbuehia, a makeup artist says the training is not only beneficial for her but also the people she would subsequently teach in order to impact them with knowledge she has gathered.
The First Lady alongside the minister then handed certificates, brand new laptops and N100,000 intervention grant to each of the graduates.