Rishi Sunak sacks Suella Braverman as home secretary as he begins reshuffle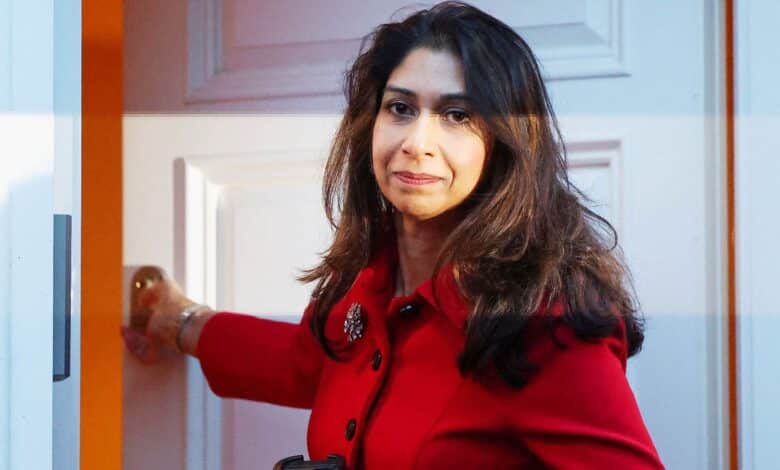 Suella Braverman has been sacked as home secretary.
She was asked to leave the job this morning by Rishi Sunak.
It is the second time Ms Braverman has lost the job of home secretary – after she resigned from Liz Truss's government breaking the ministerial code.
Politics latest: Braverman sacked again – as reshuffle happening today
Mr Sunak reappointed her less than a week later when he took over as prime minister.
In a post on the Conservative Party's social media, it claims Mr Sunak's reshuffle today "strengthens his team in government to deliver long-term decisions for a brighter future".
Last week, Ms Barverman wrote a newspaper article that accused the police of "playing favourites" as she criticised the Metropolitan Police's handling of a controversial pro-Palestinian march for Armistice Day.
The prime minister came under pressure to act after Ms Braverman was accused of undermining the operational independence of – and public confidence in – the police.
Critics, from both opposition parties and fellow Tory MPs, called Ms Braverman's comments "offensive" and "inflammatory".
Over the weekend, far-right protesters clashed with police in Westminster. Elsewhere, pro-Palestinian marches also ended with arrests.
Speaking to Sky News this morning, armed forces minister James Heappey became the latest member of the government to distance themselves from Ms Braverman's words – joining Defence Secretary Grant Shapps and Chancellor Jeremy Hunt.
But the move will anger some in the party. Tory MP Andrea Jenkyns said on X: "I support Suella Braverman. Sacked for speaking the truth. Bad call by Rishi caving in to the left!"
Source: Sky News