River SDP disowns 'impostors', ask security operatives to swing into action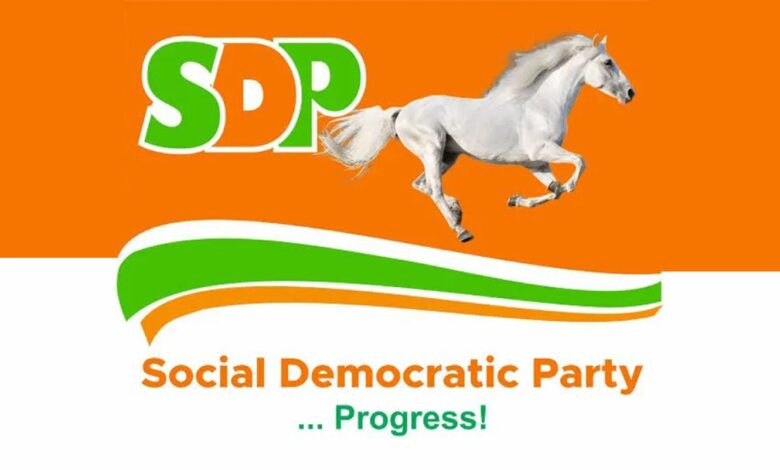 The Rivers State chapter of the Social Democratic Party has disowned impostors, going about, collecting money from unsuspecting individuals in the name of the party.
In a statement by the State Publicity Secretary of the SDP, Esedi Joe Davis, the party said the individuals in question had been long suspended from the party.
It also urged security operatives to swing into action as arrest them.
The statement read, "The attention of the Leadership of the Social Democratic Party (SDP), Rivers State Chapter has been drawn to the activities and shenanigans of some hungry political merchants who have long been suspended from the party for incompetency, gross misconduct and treacherous acts.
"In the purported video making round on social media, the criminals and impostors too scary to face the camera arranged in an enclosure lit with neon light as if in a large reception of a desolate hotel yearning for customers, the imposters and impersonators claimed to be the Chairmen of Abua Odual, Ahoada West, Akuku Toru, Asari Toru, Opobo/Nkoro and Phalga.
"The political merchants, Tonye Ojongo, Gogo Jaja, Darlington Onuyi, Michael Manuel and especially the pathetic looking freak area boy with agbero animosity Promise Agbagbo who claimed to be LGA Chairman of Chairmen, they woefully failed to act the induced script from the sinking PDP Nicodemus actors.
"The PDP have turned Rivers State into ATM Centre impatiently waiting for political jobbers who can cash out with a script too preposterous to gain public acceptability. In contrast, we have seen hundreds of real PDP Members embraced Distinguished Senator Magnus Ngei Abe the Indomitable Candidate of the Social Democratic Party on the white horse galloping to the Brick House. The men and women of honour openly joined the SDP in broad daylight public space contrary to the charade-in-enclosure seen in the video making round.
"The fellows mentioned above have, even up to Thursday, the 9th of March 2023, been calling and asking for money from our Principal, the Distinguished Senator Magnus Ngei Abe, but they didn't know the script writers secretly videoed them on set to expose their gullibility.
"Hitherto, it is not a surprise therefore that after being disengaged from the party and subsequently replaced, they have shamelessly taken their wild quests for illicit money to the ostrich marketplace where they have buried their heads deep in the sand of shame.
"The SDP Rivers State Chapter disassociate self from those merchants and warns the general public that the aforementioned fellows are not Members of SDP in any capacity whatsoever. In the same breath, the SDP Rivers State Chapter further disassociate herself from one Gideon Worgu, Clifford Ibe and Emmanuel Ameawhule as they are not members of SDP.
"Furthermore, the Security Agencies have been contacted to arrest and prosecute the imposters in video making round for deceiving the general public and their failed attempt to drag the name of SDP into their illicit hunt for money.
"The Social Democratic Party officers at all levels have endorsed and are firmly behind Distinguished Senator Magnus Ngei Abe who is riding on the horse to the Brick House and who will restore back the lost Glory of the Garden City."