Rivers Crisis: Lagos Lawmakers back Wike's loyalists, ask Fubara not to meddle into legislative affairs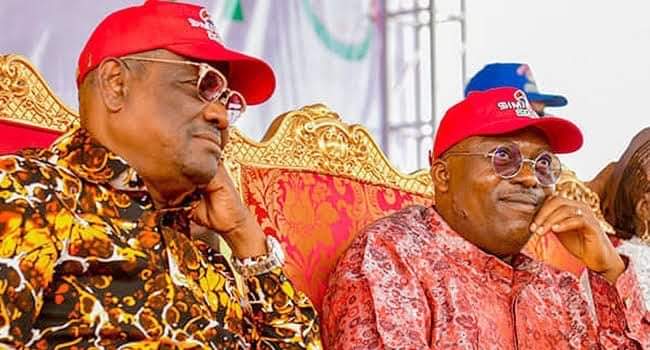 Members of the Lagos state House of Assembly on Tuesday threw their weight behind the lawmakers loyal to the Minister of FCT, Nyesom Wike, condemning the burning of the Chamber of the Rivers state House of Assembly.
The lawmakers also called on the governor of Rivers State, Siminalayi Fubara, to adhere strictly to the provisions of the constitution by not meddling in the affairs of the House, urging the Senate and the House of Representatives to rise up to the crisis.
They urged the chairman of the Conference of Speakers, Rt. Hon. Debo Ogundoyin, to collaborate with his colleagues to condemn the act and fast-track the process of ensuring autonomy for state legislatures.
The lawmakers made these resolutions during plenary session after Hon. Desmond Elliot raised the issue under 'Matter of Urgent Public Importance'.
Elliot (Surulere 1), said the attack on the chamber was an attack on the sanctity of the parliament, which is very important to democracy.
"How was a new Speaker of the Rivers State House of Assembly elected? If due process was not followed, we have to condemn it.
"The crisis in Rivers did not emanate from the House of Assembly, so why should it be burnt or closed down?" he asked.
Speaking on the issue, Deputy Majority Leader, Hon. Richard Kasunmu said reports had it that the governor stormed the House, adding that how could eight members elect new Speaker.
While noting that the Lagos State House of Assembly has always led by example, he expressed worry over the safety of the mace, which he described as the symbol of authority.
Condemning the act, Hon. Adewale Temitope (Ifako-Ijaiye 1), said it was disturbing how eight members could elect a Speaker.
"It is becoming a norm for the executive to interfere in the affairs of the legislature. And where this continues, you are calling for anarchy. I call on my colleagues to come together and solve whatever issues they have among themselves so that they can continue to serve the people," he said.
Deputy Speaker Mojisola Lasbat Meranda, who presided at the sitting, described the situation in Rivers as sad and heartbreaking.
"Our security agents should also ask questions because the Rivers Assembly is on the same street as the police command in the state. The parliament is the life of democratic government," she noted.